Creamy Sausage Dip Recipe | Food Diaries | Zarnak Sidhwa | Continental Food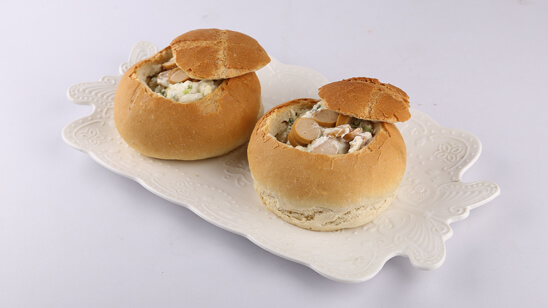 Jun 18, 2021 at 02:19 AM (GMT -04:00)

Check out the Creamy Sausage Dip Recipe in Urdu. Learn how to make best Creamy Sausage Dip Recipe , cooking at its finest by chef Zarnak Sidhwa at Masala TV show Food Diaries. Check all the Pakistan Cooking recipes in Urdu of Masala TV. Also Check Creamy Sausage Dip Recipe , ingredients and complete Method.
Creamy Sausage Dip will make you make you crave for more of it with each bite. Give this step by step guide a try at home!
Watch this Masala TV video to learn how to make Creamy Sausage Dip and Warm Chocolate Pudding Cake Recipes. This show of Food Diaries with Chef Zarnak Sidhwa aired on 16 December 2020.
Ingredients:
Sausages, chopped 4
Cream cheese 4 oz
Sour cream 1 cup
Shredded cheddar cheese 1 cup
Green chilies chopped 4
Green onions chopped 2
Large round bread loaf as required
Oil 1 tbsp
Method:
Using a serrated knife, cut the bread so that you have a large bread "core" to cut and use for dipping, but make sure the bottom of the loaf is still intact, to use as a vessel to hold the dip. Cut the core into chunks. Set the bread bowl on a platter and arrange the bread chunks around it. In a pan heat very little oil and brown the sausages. On very low heat add the cream cheese. Once the cream cheese has melted, stir in the sour cream, cheddar cheese and green chilies. Mix in half the chopped green onions. Pour the hot sausage cheese dip into the bread bowl, then sprinkle with the remaining green onions over the top. Serve warm.
Ingredients:
Flour 3/4 cup
Caster sugar 2/3 cup
Cocoa powder 1/2 cup
Baking powder 1- 1/2 tsp
Salt 1/2 tsp
Milk 1/2 cup
Oil 3 tbsp
Brown sugar 2/3 cup
Chocolate chips 1/4 cup
Vanilla essence 1 tsp
Hot water 1-1/4 cups
Method:
Mix flour, caster sugar, 1/4 cup cocoa, baking powder and salt. Add milk and oil and mix well. Put in a greased 8×8 Pyrex dish. Sprinkle on top first brown sugar, then remaining 1/4 cup cocoa and then the chocolate chips. Add vanilla essence to the hot water and pour directly over mixture without stirring. Do not stir the hot water into the mixture, it must sit on top. Bake at 180 degrees C for 30 minutes, just until the sides start to pull away from the pan and the top starts to crack slightly, the middle will be a little jiggly. Serve immediately with a scoop of ice-cream in individual bowls.

Creamy Sausage Dip Recipe in Urdu and English
At Masala TV you can check complete Creamy Sausage Dip Recipe in Urdu and English. This is one of the best recipes by chef Zarnak Sidhwa at Masala TV show Food Diaries. Check out the other best recipes of chefs Zarnak Sidhwa.
Top relevant recipes of Creamy Sausage Dip Recipe in Urdu