Date and Nut Rolls Recipe | Food Diaries | Zarnak Sidhwa | Dessert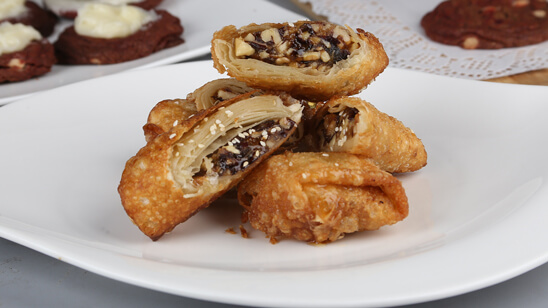 Mar 28, 2023 at 10:29 AM (GMT -04:00)

Check out the Date and Nut Rolls Recipe in Urdu. Learn how to make best Date and Nut Rolls Recipe , cooking at its finest by chef Zarnak Sidhwa at Masala TV show Food Diaries. Check all the Pakistan Cooking recipes in Urdu of Masala TV. Also Check Date and Nut Rolls Recipe , ingredients and complete Method.
Date and Nut Rolls are healthy, nutritious and wholesome. Curb your sweet cravings with a healthy dessert like this one.
Watch this Masala TV video to learn how to make Date and Nut Rolls And Red Cookies Recipes. This show of Food Diaries with Chef Zarnak Sidhwa aired on 18 February 2021.
Ingredients:
Spring roll wrappers ` 4-6
Dates seeded and chopped 10
Walnuts chopped 8
Oil for deep-frying
Flour 1 tbsp
White sesame seeds to sprinkle
Honey for drizzling
Method:
Combine dates and walnuts and set aside. Dissolve flour in some water to make thick slurry. Take each spring roll sheet, put date-walnut mixture in the center of sheet, roll and apply some slurry on the edges to seal. Deep-fry each roll in hot oil till golden and crisp. Drain on absorbent paper. Arrange rolls on a serving plate, sprinkle some sesame seeds and drizzle some honey on top and serve hot.
Ingredients:
Salted butter 175g
Brown sugar 200g
Caster sugar 100g
Egg 1
Vanilla essence 2 tsp
Red food color 1 tbsp
Flour 225g
Cocoa powder 25g
Bicarbonate of soda ½ tsp
White chocolate chips 150g
For the drizzle:
Soft cheese 2 tbsp
Icing sugar 6 tbsp
Method:
Beat the butter and add brown and caster sugars. Add in the egg, vanilla and food colour until you have a bright red batter. Sieve in the flour, cocoa and soda bicarb. Fold everything together to make a stiff evenly-colored dough, then fold in the chocolate chips. put the dough on a sheet of baking parchment, fold the parchment over the dough and mold into a sausage shape. Chill until ready to bake. Cut the cookie dough into 1cm thick slices using a sharp knife and arrange on baking sheets. Bake at 190 degrees c for 13-15 minutes until the cookies are crisp at the edges, but still soft in the center. Leave to cool on the baking sheet for a few minutes, then transfer to a wire rack to cool completely. Beat the soft cheese in a bowl, then stir in the icing sugar. Use a piping bag or spoon to drizzle the icing over the cookies.

Date and Nut Rolls Recipe in Urdu and English
At Masala TV you can check complete Date and Nut Rolls Recipe in Urdu and English. This is one of the best recipes by chef Zarnak Sidhwa at Masala TV show Food Diaries. Check out the other best recipes of chefs Zarnak Sidhwa.
Top relevant recipes of Date and Nut Rolls Recipe in Urdu