Date Bars Recipe | Food Diaries | Zarnak Sidhwa | Dessert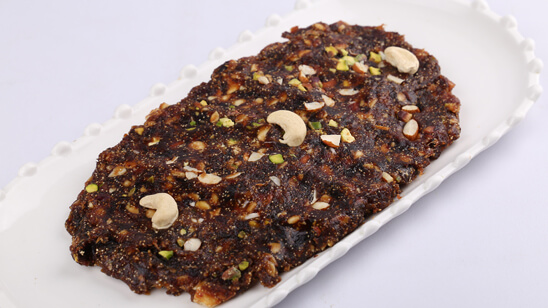 Jan 26, 2023 at 04:36 PM (GMT -05:00)

Check out the Date Bars Recipe in Urdu. Learn how to make best Date Bars Recipe , cooking at its finest by chef Zarnak Sidhwa at Masala TV show Food Diaries. Check all the Pakistan Cooking recipes in Urdu of Masala TV. Also Check Date Bars Recipe , ingredients and complete Method.
Date Bars are healthy, wholesome and fulfill your craving for dessert without ruining your diet.
Watch this Masala TV video to learn how to make Date Bars, Khajur Pak and Loki Halwa Recipes. This show of Food Diaries with Chef Zarnak Sidhwa aired on 30 October 2020.
Ingredients:
Dates deseeded 200gm
Cashews 5-6
Milk 3 tbsp
Biscuits crushed 5-6
Walnuts ¼ cup
Coconut 40gm
Salt ½ tsp
Vanilla essence 1 tsp
White chocolate (melted) 20gm
Method:
Blend dates, cashews and milk. Set aside. Mix in the crushed biscuits, walnuts, coconut, salt, and vanilla essence. Grease a dish and add the mixture. Press firmly. Chill for 30 minutes.
Cut in bars once set and drizzle the bars with melted white chocolate.
Ingredients:
Dates 500 gm
Cashews 2 tsp
Almonds 2 tsp
Pistachios 2 tsp
Melon seeds 2 tsp
Poppy seeds 2 tsp
Clarified butter 2 tsp
Method:
Melt ghee & add chopped nuts and roast them. Then add dates chopped, mix well and cook for till smooth. Once cooled, roll the mixture in cling and put in the fridge for one hour. Cut in slices and serve.
Ingredients:
Bottle Gourd 500 gm
Sugar 1 Cup
Whole dried milk 200 gm
Rose Essence 3 drops
Almonds 50 gm
Cashews 50 gm
Milk 1 Cup
Clarified butter 3 tbsp
Green color Few drops
Method:
Peel and grate the bottle gourd. Boil bottle gourd with milk for 15 minutes. Add sugar and keep on cooking on low flame. Keep stirring so it does not stick at the bottom. Add ghee and the rose essence. Mix well and cook on low flame until ghee floats. Stir occasionally. Mash the Khoya to the mixture and mix it well. Cook for 5-7 minutes on low flame. Add green color. Garnish with cashews and almonds.

Date Bars Recipe in Urdu and English
At Masala TV you can check complete Date Bars Recipe in Urdu and English. This is one of the best recipes by chef Zarnak Sidhwa at Masala TV show Food Diaries. Check out the other best recipes of chefs Zarnak Sidhwa.
Top relevant recipes of Date Bars Recipe in Urdu