Gol gappay Shots Recipe | Evening With Shireen | Chef Shireen Anwar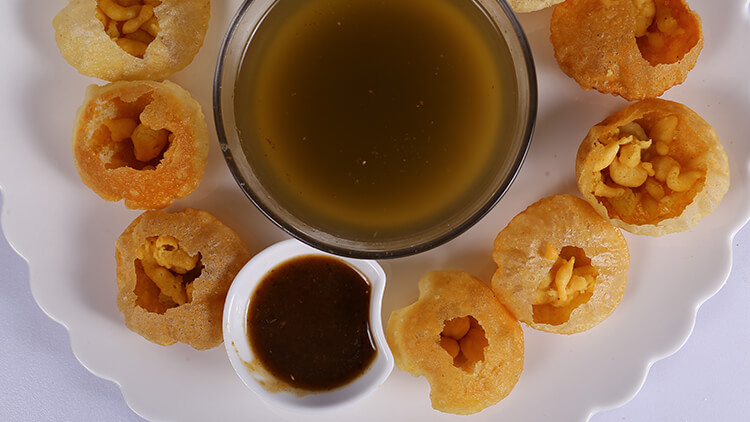 Sep 24, 2023 at 12:57 PM (GMT -04:00)

Check out the Gol gappay Shots Recipe in Urdu. Learn how to make best Gol gappay Shots Recipe, cooking at its finest by chef Shireen Anwar at Masala TV show Evening with Shireen. Check all the Pakistan Cooking recipes in Urdu of Masala TV. Also Check Gol gappay Shots Recipe, ingredients and complete Method.
Everyone's favorite desi street snack is Gol Gappay. The specialty of gol gappay is in its unique juice. Learn to prepare the perfect juice for your gol gappay shots by following this recipe.
Watch this Masala TV video to learn how to make Gol gappay shots,Chaat on a bun and Hawaiian shake Recipes. This show of Lazzat with Chef Samina Jalil aired on 25 November 2019.
Ingredients:
Semolina 1 cup
Flour ½ cup
Black lentil flour 2 tbsp
Club soda to knead
Oil for deep frying
Ingredients for filling:
Potato boiled 1 cup mashed
Bondi soaked 2 cups
Ingredients for pani:
Mint leaves ½ bunch
Ginger chopped 2 tbsp
Green chilies 3
Tamarind pulp ½ cup
Lemon juice 3 tbsp
Roasted cumin powder 1 tbsp
Roasted coriander powder 1 tsp
Chili powder ½ tsp
Water 1 liter
Salt ½ tsp
Method for pani:
Add ginger, mint, ½ cup water, green chilies in a blender and puree, mix in 1 litre water with tamarind pulp, lemon juice, roasted cumin and coriander powder, chili powder and salt, mix well, the water should be tangy and spicy, strain water, keep in the fridge to chill or add ice and use.
Method for gol gappay:
In a bowl mix together semolina 1 cup, flour ½ cup, mash ki daal ka aata 2 tbsp, knead with club soda to form a stiff dough, keep aside for 30 mins, knead once again, make marbles size balls with little oil on your hands, roll into puri, keep between two layers of wet cloth, roll all of them, keep for 10 mins, deep fry on medium heat till they puff up, reduce heat and fry till crisp.
Ingredients:
Mini buns 8
Potatoes boiled / mashed 4
Oil 4 tbsp
Mustard seeds ½ tsp
Chili powder 1 tsp
Turmeric ¼ tsp
Salt 1 tsp
Allspice ½ tsp
Butter 4 ounce
Green chutney 4 tbsp
Date / tamarind chutney 4 tbsp
Onion chopped 1
Sev 1 cup
Chopped fresh coriander 4 tbsp
Ingredients for green chutney :
Coriander 1 cup
Mint ½ cup
Green chilies 2
Black salt ½ tsp
Sugar 1 tsp
Lemon juice 1 tbsp
Ingredients for date & tamarind chutney :
Dates Chopped 10
Cumin seeds 2 tsp
Fennel seeds ¼ tsp
Tamarind pulp 1 cup
Jaggery ½ cup
Chili powder 2 tsp
Dried ginger powder 1 tsp
Black salt ½ tsp
Water 3 cups
Method for chaat :
Heat oil in a pan, add mustard seeds, when they begin to splutter add mashed potatoes, chili powder, turmeric, allspice and salt, mix well and cook for 5 mins, remove and keep aside. Slit 2 buns horizontally but do not cut through to separate the halves, spread some butter inside the bun, stuff with potato mixture, lightly toast the bun on a tawa using a little butter, arrange 2 roasted buns on each serving plate, top with green chatni, date and tamarind chatni, chopped onion and a generous helping of sev, garnish with chopped coriander and serve immediately.
Method green chutney:
Grind all together.
Method for date & tamarind chutney
Wash stone and chopped dates, dry roast cumin and fennel seeds, ground to a powder, cook dates and tamarind pulp in a sauce pan with cumin and fennel powder, ½ cup gur, chili powder, dried ginger powder, black salt and water, cook till thick, blend and use.
Ingredients:
Pineapple juice 1 cup
Orange juice ¼ cup
Lemon juice 1 tbsp
Sugar 4 tbsp
Chilled milk 2 cups
Whipped fresh cream ½ cup
Crushed ice 1 cup
Cherries for decoration
Method:
Mix the fruit juices with sugar, milk and ice, blend well, pour into glasses, swirl with whipped cream, top each glass with whipped cream, decorate with cherries and serve.

Gol gappay Shots Recipe in Urdu and English
At Masala TV you can check complete Gol gappay Shots Recipe in Urdu and English. This is one of the best recipes by chef Shireen Anwar at Masala TV show Evening with Shireen. Check out the other best recipes of chefs Shireen Anwar.
Top relevant recipes of Gol gappay Shots Recipe in Urdu