Green Curry Recipe | Recipe Food Diaries | Zarnak Sidhwa | Desi Food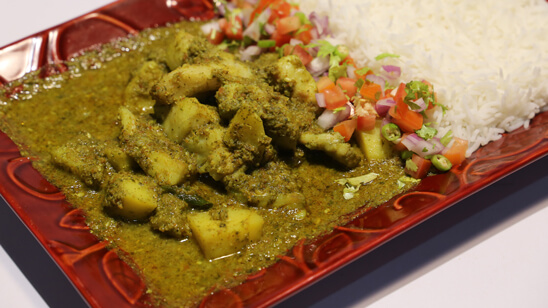 Sep 23, 2023 at 08:04 AM (GMT -04:00)

Check out the Green Curry Recipe in Urdu. Learn how to make best Green Curry Recipe , cooking at its finest by chef Zarnak Sidhwa at Masala TV show Food Diaries. Check all the Pakistan Cooking recipes in Urdu of Masala TV. Also Check Green Curry Recipe , ingredients and complete Method.
Green Curry is always a great idea to celebrate the weekend. Try this amazing recipe for dinner tonight!
Watch this Masala TV video to learn how to make Green Curry and Bheeda Per Eedoo Recipes. This show of Food Diaries with Chef Zarnak Sidhwa aired on 14 August 2020.
Ingredients:
Coconut grated ½
Coriander 1 bunch
Mint leaves ½ bunch
Cumin seeds 2 tsp
Green chilies 6
White sesame seeds 1 tsp
Garlic 10 – 12 cloves
Tomatoes chopped 2
Turmeric ½ tsp
Red chili powder 1 tbsp
Curry powder 1 tsp
Curry leaves 2 stalks
Potatoes, cubed 2
Oil 2 tbsp
Salt to taste
Fish ½ kg
Ginger garlic paste 1 tbsp
Green color a drop
To Serve:
Boiled rice as required
Kachumbar as required
Method:
To make the curry paste, grind the coconut and garlic first with little water before adding in the other ingredients like mint, coriander, sesame seeds, cumin seeds, green chillies. Once you have a fine paste, heat oil in a pan. Add the curry paste. Fry until the masala is no longer coating the sides of the pan. Add in 3 cups water, potatoes, curry leaves, red chili powder, curry powder and turmeric powder. Let the curry simmer on low until the potatoes are cooked. Marinate the fish in ginger-garlic paste and salt and let it sit for 10 – 15 minutes while the curry simmers. When the potatoes are half cooked, carefully drop in the fish pieces into the curry and give it a slow stir. If you stir the curry too much you risk the fish pieces breaking so be careful. Cover the pan and let the curry simmer on slow for another 10 – 15 minutes until the fish is cooked. Add a drop of green color. Serve the curry with some boiled rice and kachumbar.
Ingredients:
Oil 3 tbsp
Onion chopped 1
Salt ¼ tsp
Black pepper to taste
Lady fingers ¼ kg
Sugar a pinch
Eggs 4-6
Method:
Heat oil, add the onion. Fry till golden brown. Discard the top of the ladyfingers and slice them into 1/4 inch pieces. Add them to the onion with the salt and sugar. Spread the ladyfingers in the pan and make 4-6 depressions (depends on the number of eggs being used) with the back of a spoon. Break the eggs in and sprinkle each one with salt and pepper. Cover the pan, lower the heat and cook till eggs are set. Serve immediately.

Green Curry Recipe in Urdu and English
At Masala TV you can check complete Green Curry Recipe in Urdu and English. This is one of the best recipes by chef Zarnak Sidhwa at Masala TV show Food Diaries. Check out the other best recipes of chefs Zarnak Sidhwa.
Top relevant recipes of Green Curry Recipe in Urdu