Gujrati Curry Recipe | Masala Mornings | Shireen Anwar | Gujrati Food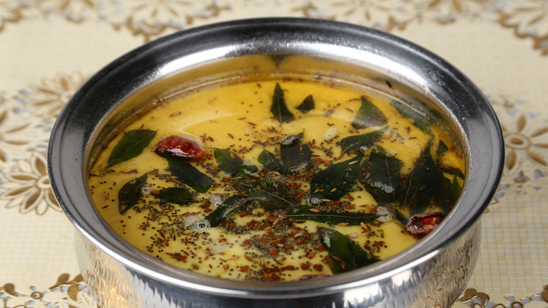 May 21, 2022 at 03:22 PM (GMT -04:00)

Check out the Gujrati Curry Recipe in Urdu. Learn how to make best Gujrati Curry Recipe , cooking at its finest by chef Shireen Anwar at Masala TV show Masala Mornings. Check all the Pakistan Cooking recipes in Urdu of Masala TV. Also Check Gujrati Curry Recipe , ingredients and complete Method.
Gujrati food is known for it's spicy flavors and unbeatable taste. Give this Gujrati Curry recipe a try to enjoy authentic Gujrati flavors.
Watch this Masala TV video to learn how to make Gujrati Curry ,Dhaba Style Masala Bhindi And Paneer Makhani Recipes. This show of Masala Mornings with Shireen Anwar aired on 19 February 2021.
Ingredients:
Yogurt 1 cup
Gram flour 5 tbsp
Water 1 ½ cup
Sugar ½ tbsp
Salt to taste
Ginger garlic ½ tsp
Green chili paste 1 tbsp
Turmeric ½ tsp
Ingredients for Temper:
Clarified butter as required
Fenugreek seeds ½ tsp
Mustard seeds ½ tsp
Cumin seeds 1 tsp
Red chilies (whole) 2
Curry leaves as required
Asafoetida a pinch
METHOD:
Mix together yogurt, gram flour, sugar, water, ginger garlic, green chili paste, salt and turmeric, and cook till thick. Keep stirring continuously.
METHOD FOR TADKA:
Heat clarified butter and add all ingredients. Allow it to crackle, add the temper to the wok. Cover for 2 minutes, add chopped coriander leaves and cook on slow for 3 to 4 minutes. Serve hot with rice.
Ingredients:
Lady finger (wash, dry and cut) ½ kg
Potato (cut into medium cubes) 1
Cumin seeds 1 tsp
Caraway seeds 2 pinches
Asafoetida ¼ tsp
Onions 2 medium (160 gm)
Green chili (chopped) 1
Ginger garlic paste 1 tbsp
Tomatoes (finely chopped) 2 medium
Coriander powder ½ tbsp
Red chili powder ½ tbsp
Cumin powder 1 tsp
Turmeric powder ½ tsp
Salt ½ tsp
Yogurt (whipped) 3 tbsp
Malai or fresh cream 2 tbsp
All spice powder ½ tsp
Lemon juice 1
Chopped coriander 1 tbsp
Oil ¼ cup
METHOD:
Heat oil Add potatoes and fry till 50% done. Remove and keep aside. In the same pan add little more oil and add lady finger and fry for 3 to 4 mins on high flame by stirring it in between, lower the flame and fry for 2 to 3 minutes. Remove and keep aside. In the same pan heat oil add cumin, Asafoetida and caraway seeds. Allow it to crackle, add chopped onion and fry till its soft and starts to change its color. Then add green chilies and ginger garlic paste fry for a minute and add tomatoes. Fry them for 2 minutes. Then add all powder masalas and mix well. Add little water, cover and cook till tomatoes are completely soft and oil begins to float. Now add yogurt and malai or cream and mix very nicely. Cook on slow till oil floats. Now add lady finger and all spice powder to it. Mix lightly, add potatoes after a minute. Add lemon juice. Mix well. Cover and cook till lady fingers and potatoes are tender. Sprinkle chopped coriander and serve hot with roti.
Ingredients:
Fresh cottage cheese (cut into thick cubes) 250 gm
Onions (sliced) 2 large
Garlic (chopped) 3 tbsp
Ginger (chopped) 1½ tbsp
Green chilies (chopped) ½ tbsp
Dried fenugreek leaves 2 tsp
Honey 3 tbsp
Tomato puree 2 cups
Cashew nuts (coarsely chopped) 50 gm
Whole dry Kashmiri red chili 2
Salt 1 tsp
Red chili powder 1 tsp
Tandoori masala 1 tsp
All spice powder 1 tsp
Cinnamon 2-3
Cloves 9 to 10
Milk ½ cup
Oil as required
METHOD:
In a wok heat some oil and add the onions. Fry till they turn pink, add the whole Kashmiri chilies, fry till the onions turn into light brown, allow it to come on room temperature then grind into fine paste, marinate the cottage cheese cubes with little salt and red chili powder. Heat little oil and add the cottage cheese pieces in it. Fry till they turn golden. Be careful the cottage cheese pieces should not break. Remove and keep aside. In the same pan add little more oil and add cinnamon sticks, cloves and fry for a minute, add chopped ginger garlic and green chilies fry for a minute on medium flame, add tomato puree to it and cook till the excess water dries. Cook for 5 minutes on high flame by continuously stirring it. Now add the prepared onion paste to it and mix nicely, add tandoori masala and all spice powder, cover and cook on slow flame for 10 mins. Keep checking in between, add dried fenugreek leaves, honey and milk. Mix well, now add the cottage cheese pieces in the gravy, mix lightly, cook for 2 mins on slow, sprinkle chopped coriander leaves and chopped chew nuts. Serve hot with parathas.

Gujrati Curry Recipe in Urdu and English
At Masala TV you can check complete Gujrati Curry Recipe in Urdu and English. This is one of the best recipes by chef Shireen Anwar at Masala TV show Masala Mornings. Check out the other best recipes of chefs Shireen Anwar.
Top relevant recipes of Gujrati Curry Recipe in Urdu