Hot and sour noodles Recipe | Mehboob's Kitchen | Chef Mehboob Khan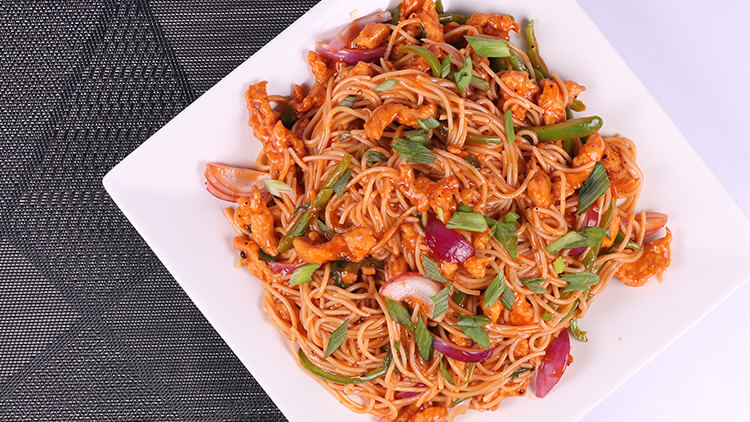 Jul 06, 2022 at 06:30 PM (GMT -04:00)

Check out the Hot and sour noodles Recipe in Urdu. Learn how to make best Hot and sour noodles Recipe, cooking at its finest by chef Mehboob Khan at Masala TV show Mehboob's Kitchen. Check all the Pakistan Cooking recipes in Urdu of Masala TV. Also Check Hot and sour noodles Recipe, ingredients and complete Method.
A spicy side dish or meal in itself with a modern Asian twist! Give it a try!
Watch this Masala TV video to learn how to make Hot and sour noodles ,Chicken Vindaloo and Russian Salad. This show of Mehboob's Kitchen with Chef Mehboob Khan aired on 2 October 2019.
Ingredients:
Boiled spaghetti ½ packet
Chicken boneless stripes ½ kg
Chili sauce ½ cup
Corn flour 2 tbsp
Chicken stock 2 cup
Sugar 2 tbsp
Salt 2 tsp
Garlic 2 tbsp
Oil for frying
Black pepper 1 tbsp
Capsicum (thick slices) 1
Onion (thick slices) 3
Ketchup 1 cup
Flour 1 cup
Eggs 2
Method:
In a bowl add chicken, flour, eggs and 1 tsp salt and 3 tbsp chili sauce mix .then in a pan add chicken and vegetables and fry for 5 minutes' then remove and set aside. Now in a separate pan add 3 tbsp of oil to fry garlic. then add chicken stock ,ketchup ,chili sauce, sugar and 1 tsp salt add and boil then cook for 2 minutes .then add black pepper and ½ of dissolved corn flour mix .after this add fried vegetables and serve .
Ingredients:
Chicken 1 kg
Ginger 1 inch piece
Garlic 8-10 cloves
Onion 2-3
Cayenne chili pepper 8-10
Whole cumin 1 tbsp
Cloves 6-7
Cinnamon 2 pieces
Crushed black pepper 1 tsp
Star anise 3-4
Poppy seeds 1 tsp
Tamarind paste ½ cup
Vinegar 3-4 tbsp
Curry leaves 3-4
Oil ½ cup
Salt 1 tsp
Method :
In a blender ginger , garlic ,cayenne chilies ,tamarind paste and vinegar add and grind thick paste .then add the chicken and marinate for half an hour .after this in a wok add oil and add cinnamon ,cloves and whole cumin and fry. Then add onion and fry and add the marinated chicken and cook on high heat .then add poppy seed, star anise, black pepper and salt then cook .now add as required water and cook till then chicken tender .when chicken tender then add curry leaves and leave on dum for 2 to 3 minutes and then serve it .
INGREDIENTS:
Cheese balls 1 packet
Finely Chopped Cauliflower 1
Peeled and Boiled Peas 1 cup
Fresh Cream 1 cup
Finely Chopped Cucumber 2
Boiled Carrots 3
Potatoes 3
Apples 3
Raisins ½ cup
Salt few
Pineapple Cubes 1 small tin
Mayonnaise 1 medium bottle
Crushed White Pepper 1 tsp
Sugar ½ tbsp
METHOD:
Heat oil and fry cheese balls and set aside .then In a big bowl, take 1 long chopped cauliflower, 3 boiled and chopped carrots, 3 boiled and chopped potatoes (cubes), 1 cup peeled and boiled peas, 3 finely chopped apples,1 small tin of pineapple cubes and 2 finely chopped cucumbers and mix it well. Then add cheese balls now add 1 tsp crushed white pepper, a bit of salt, ½ tbsp sugar, 1 cup fresh cream and 1 medium sized bottle of mayonnaise. Mix all of them and keep it in the fridge to cool down. In the end, add ½ cup roasted raisins and garnish. The more cool the salad is, the more delicious it is.

Hot and sour noodles Recipe in Urdu and English
At Masala TV you can check complete Hot and sour noodles Recipe in Urdu and English. This is one of the best recipes by chef Mehboob Khan at Masala TV show Mehboob's Kitchen. Check out the other best recipes of chefs Mehboob Khan.
Top relevant recipes of Hot and sour noodles Recipe in Urdu