Irani Kabab Recipe | Tarka | Rida Aftab | Desi Food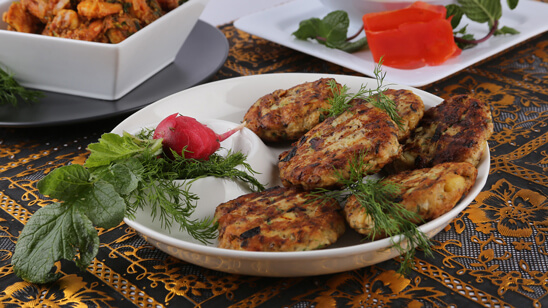 Mar 08, 2021 at 10:44 AM (GMT -05:00)

Check out the Irani Kabab Recipe in Urdu. Learn how to make best Irani Kabab Recipe , cooking at its finest by chef Rida Aftab at Masala TV show Tarka. Check all the Pakistan Cooking recipes in Urdu of Masala TV. Also Check Irani Kabab Recipe , ingredients and complete Method.
Irani Kabab will certainly make your day! These are full of scrumptious flavors that make it taste incredible. Try it out!
Watch this Masala TV video to learn how to make Fried Jheenga Masala , Chicken Dahi Hara Masala and Irani Kabab Recipes. This show of Tarka with Chef Rida Aftab aired on 18 January 2021.
Ingredients:
Prawns ½ kg
Curry leaves 6
Onion 2
Tomatoes 6
Green chilies 6
Coconut 2 tbsp
Red chili 1 tsp
Turmeric powder ½ tsp
Salt ½ tsp
Coriander powder 2 tsp
Oil ½ cup
Green coriander ½ bunch
Method:
Heat oil add prawn and turmeric powder fry well. Add onion, green chili, salt, curry leave, tomatoes, coriander powder, red chili powder and coconut, cook. Add prawns cook for 10 minutes. Sprinkle coriander & serve hot.
Ingredients:
Chicken ½ kg
Fresh coriander ½ bunch
Green chilies (small) 8
Fennel 1 tbsp
Coriander seeds 1 tbsp
Salt 1 tsp
Ginger 1 piece
Garlic 8 cloves
Yogurt 250 gm
Milk 2 cups
Turmeric (whole) 1 tbsp
All spice powder ½ tsp
Cinnamon 1 piece
Black cardamoms 2
Green cardamoms 2
Oil ½ cup
Method:
In the milk add coriander seeds, green chilies, garlic, ginger, fresh coriander, fennel and whole turmeric. Cook well. Then allow it to cool and grind it with yogurt. Now heat oil and fry cinnamon, black cardamoms and green cardamoms. Then add chicken, all spice powder and salt. Cook well. Now add 1 cup water, cover and cook properly. Lastly dish out and serve hot.
Ingredients:
Potatoes (boiled) ½ kg
Chicken mince ½ kg
Fried onions 1 cup
Cumin seeds 1 tsp
Black pepper 1 tsp
Green chilies 4
Green onions 6
Garlic (chopped) 1 tbsp
Salt 1 tsp
Olive oil 1 tbsp
Dill or parsley ½ bunch
Saffron a pinch
Egg 1
Oil (for frying) as required
Method:
In the mince add onion, chopped garlic, salt and water. Cook well on a medium heat until it gets tender. Then remove it in the bowl. Now mash the boiled potatoes and add to the chicken mixture. Then add black pepper, green onions, green chilies, soya or parsley, olive oil and saffron. Mix well. Now make cutlets out of this mixture. Then coat with egg and fry in hot oil. Serve.

Irani Kabab Recipe in Urdu and English
At Masala TV you can check complete Irani Kabab Recipe in Urdu and English. This is one of the best recipes by chef Rida Aftab at Masala TV show Tarka. Check out the other best recipes of chefs Rida Aftab.
Top relevant recipes of Irani Kabab Recipe in Urdu