Kung Pao Noodles Recipe | Lazzat | Samina Jalil | Chinese Food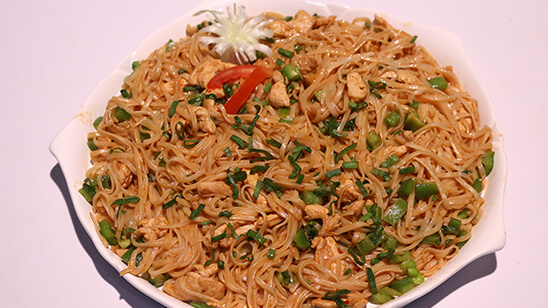 Sep 22, 2023 at 04:29 PM (GMT -04:00)

Check out the Kung Pao Noodles Recipe in Urdu. Learn how to make best Kung Pao Noodles Recipe , cooking at its finest by chef Samina Jalil at Masala TV show Lazzat. Check all the Pakistan Cooking recipes in Urdu of Masala TV. Also Check Kung Pao Noodles Recipe , ingredients and complete Method.
Kung Pao Noodles are a full of taste and delicious Chinese flavors. Try making Kung Pao Noodles with this very easy recipe today!
Watch this Masala TV video to learn how to make Kungpao Noodles , Chicken Stroganoff and Singaporean Chili Chicken Recipes. This show of Lazzat with Chef Samina Jalil aired on 29 October 2020.
Ingredients:
chicken (sliced) 250g
Boiled Noodles 1/2packet
Capsicum 1
Oyster sauce 1-1/2tbsp
Soy sauce 2tbsp
Chili garlic paste 2tbsp
Sugar 2tbsp
Vinegar 2tbsp
Salt 1tsp
Ginger, garlic crushed 1tbsp
Spring onion for garnishing
Method:
Firstly cut capsicum and onion finely. Now fry crushed ginger and garlic. Now in it add chicken and with it 2 tbsp of soy sauce, chili garlic paste, sugar, vinegar, salt, oyster sauce to cook the chicken. Now add half cup of water to boil the noodles. With it add spring onion and capsicum to dish it out and serve.
Ingredients:
Chicken (lengthwise) 500 grams
Chicken stock 1-1/2 cup
Rosemary 1-1/2 tsp
Oil 2 tbsp
Butter 4 tbsp
Cream 4 tbsp
Flour 2 tbsp
Mustard paste 1 tbsp
Black pepper powder 1 tsp
Salt ¾ tsp
Onion 1
Mushrooms 1 tin
Boiled noodles for serving
Plain rice for serving
Method:
First sauté chicken in oil then add salt, black pepper powder and mustard paste and cook well. Then heat butter in another pan and fry flour. Then add chicken stock and mix well then cook till it gets thick. Now add salt and black pepper powder also add cream, rosemary, chicken and mushrooms and cook for 3-4 minutes. Then serve with boiled rice or boiled noodles.
Ingredients:
For marination:
Chicken boneless 300 gram
Egg 1
Flour 2 tbsp
Corn flour 1 tbsp
Salt ½ tsp
Chili sauce 1 tbsp
Soy sauce 2 tbsp
Oil for frying
For sauce:
Crushed garlic 1 tsp
Chicken stock 1 cup
Chili sauce 2 tbsp
Ketchup 4-5 tbsp
Corn flour 1-1/2 tbsp
Egg 1
Crushed red chilies ½ tsp
Spring onion for garnishing
Method:
First add egg, flour, corn flour, salt, chili sauce and soya sauce in chicken and leave for half an hour. Now fry chicken in oil. For sauce heat oil in pan and fry garlic. Then add chili sauce, ketchup, crushed red chilies and chicken stock then cook till it starts boiling. Now thick it with corn flour and add beaten egg slowly slowly and leave. Then mix it. Now take out fry chicken in a dish and pour sauce over it and garnish with spring onion

Kung Pao Noodles Recipe in Urdu and English
At Masala TV you can check complete Kung Pao Noodles Recipe in Urdu and English. This is one of the best recipes by chef Samina Jalil at Masala TV show Lazzat. Check out the other best recipes of chefs Samina Jalil.
Top relevant recipes of Kung Pao Noodles Recipe in Urdu