Punjabi Kadhi Pakora Recipe | Dawat | Abida Baloch | Desi Food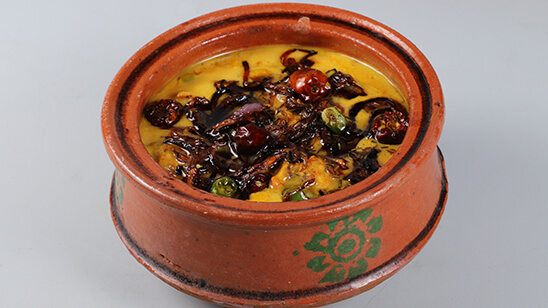 Sep 22, 2023 at 05:17 PM (GMT -04:00)

Check out the Punjabi Kadhi Pakora Recipe in Urdu. Learn how to make best Punjabi Kadhi Pakora Recipe , cooking at its finest by chef Abida Baloch at Masala TV show Dawat. Check all the Pakistan Cooking recipes in Urdu of Masala TV. Also Check Punjabi Kadhi Pakora Recipe , ingredients and complete Method.
Punjabi Kadhi Pakora is a forever favorite! Learn how to make a scrumptious tasting Kadhi at home.
Watch this Masala TV video to learn how to make Punjabi Kadhi Pakora And Aalu Butter Masala Recipes. This show of Dawat with Chef Abida Baloch aired on 25 June 2021.
Ingredients:
Gram flour 1/2 cup
Turmeric ½ tsp
Red chili powder 1 tsp
Carom seeds ¼ tsp
Ginger garlic paste ½ tbsp
Salt 1 tsp
Sour yogurt 1 cup
Water 5 cups
Oil 2 tbsp
Fenugreek ½ tsp
Cumin 1 tsp
Pepper ½ tsp
Onion (sliced) 1
Chili (slit) 1
For onion pakora:
Onion sliced 3
Ginger paste 1 tsp
Chilies chopped 2
Crushed cumin 1tsp
Crushed coriander 1tsp
Carom seeds ¼ tsp
Turmeric ¼ tsp
Dried fenugreek 1 tsp
Coriander (finely chopped) 2 tbsp
Gram flour 1 cup
Salt ½ tsp
Curd 2 tbsp
Baking soda ¼ tsp
Oil for frying
For tempering:
Oil ¼ cup
Cumin 1 tsp
Dried red chili 4-5
Onion sliced 1
Method:
For kadhi preparation:
Firstly, in a large bowl take 5 tbsp gram flour, ½ tsp turmeric, 1 tsp chili powder, ¼ tsp carom seeds, ½ tbsp ginger garlic paste, 1 tsp salt and 1 cup curd.
Mix well forming a smooth paste. Now add 4 cup water and mix well. Keep aside.
In a large kadai heat 2 tbsp oil and add ½ tsp dried fenugreek, 1 tsp cumin,
Splutter the tempering. Now add 1 onion, chili and sauté until onions soften.
Further, add prepared gram flour curd mixture and mix well. Keep stirring until the mixture comes to a boil. Now half cover the kadai and simmer for 30 minutes. Stir in between to prevent from burning. Onion pakora preparation: Mix all the ingredients of pakoras and. Deep fry in hot oil, keeping the flame on the medium.
Stir occasionally, until the pakora turns golden brown and crisp. Drop in prepared onion pakora into the khadi. Simmer for a minute or until the pakora absorbs kadhi. Prepare the tempering by heating oil. Add1 tsp cumin, 1 dried red chili, onion. Pour the tempering over kadhi and add 2 tbsp coriander. Mix well.
Finally, enjoy kadhi pakora
Ingredients:
Potatoes boiled 450grams
Oil 1/4 cup
Mustard seeds 1/2 tsp
Cumin seeds 1/2 tsp
Chopped onion 1
Ginger garlic paste 1tsp
Green chilies 2
Cashew nuts paste 2 tbsp
Chopped tomatoes 2
Butter 3 tbsp
Bay leaf 1
Cloves 2
Cinnamon stick 1-inch
Cardamom powder 1/4 tsp
Kashmiri red chili powder 1 tsp
Turmeric 1/4 tsp
Coriander powder 1 tsp
All spice powder 1/4 tsp
Dried fenugreek leaves 1 tsp
Milk 1/2 cup
Double cream 1/4 cup
Salt to taste
Method:
In a heavy bottom pan, heat oil. Add mustard and cumin seeds and once they splutter, add roughly chopped onion and cook until translucent Add garlic, ginger and green chilies and tomatoes and cashew nuts paste. Sauté́ until tomatoes are mushy. Transfer mixture into a blender and blend until smooth. Heat butter in the same pan and add whole spices and pour over the blended mixture and cook for a few minutes. Add the dried spices apart from Garam masala and cook until the oil rises to the surface. Add the milk to the pan and bring to a boil. Addsalt, fenugreek leaves and cardamom powder Add the boiled potatoes. Allow the curry to cook for 2/3 minutes. Add the Garam masala and cream turn off the heat. Let the curry sit for 5 minutes to thicken and garnish with fresh coriander.

Punjabi Kadhi Pakora Recipe in Urdu and English
At Masala TV you can check complete Punjabi Kadhi Pakora Recipe in Urdu and English. This is one of the best recipes by chef Abida Baloch at Masala TV show Dawat. Check out the other best recipes of chefs Abida Baloch.
Top relevant recipes of Punjabi Kadhi Pakora Recipe in Urdu