Puri Mawa Halwa Recipe | Tarka | Desi Food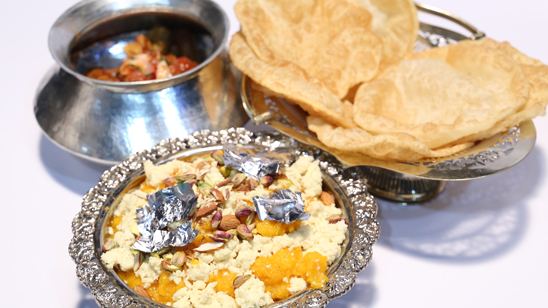 Sep 24, 2023 at 12:37 PM (GMT -04:00)

Check out the Puri Mawa Halwa Recipe in Urdu. Learn how to make best Puri Mawa Halwa Recipe , cooking at its finest by chef Rida Aftab at Masala TV show Tarka. Check all the Pakistan Cooking recipes in Urdu of Masala TV. Also Check Puri Mawa Halwa Recipe , ingredients and complete Method.
Puri Mawa Halwa is exactly what you are looking for on a Sunday morning. You'll never have a dull Sunday if you have this as a breakfast.
Watch this Masala TV video to learn how to make Puri mawa halwa, Sabzi aur qeemay kay kabab and Seekh Kabab Handi Recipes. This show of Tarka with Chef Rida Aftab aired on 7 April 2020.
Ingredients:
For puri:
Flour 300 gram
Semolina 50 gram
Baking powder ½ tsp
Oil 2 tsp
Water 1 cup
Salt as required
Yogurt 2 tbsp
For halwa:
Semolina 1 cup
Flour ½ cup
Cardamom ½ tsp
Yellow food color ½ tsp
Khoya 250 gram
Kewra essence few drops
Sugar 1 cup
Clarified butter 1 cup
Almonds, pistachios as required
Method:
For puri add flour, semolina, baking powder, oil, salt and yogurt in a bowl and knead soft dough with water and leave for 10-15 minutes. Now make puri and fry in oil. For halwa heat clarified butter and cook flour and semolina in it. When it gets golden then remove from flame and add 2 cup water, sugar, cardamom, yellow food color and kewra essence and cook on low flame. When water get dries then add khoya in pieces. Now leave it on dum for 10 minutes and then take out garnish with almonds, pistachios and serve.
Ingredients:
Chicken Mince ½ kg
Onion 250 gram
Green chilies 6
Green coriander ½ bunch
Grated carrot ½ cup
Spring onion ½ cup
Capsicum ½ cup
Cheddar cheese 2 tbsp
Red chili powder 2 tsp
Salt ½ tsp
Garam masala powder 1 tsp
Ginger garlic paste 2 tsp
Oil as required
Eggs 2
Bread slices (soaked) 2
Method:
Chop mince, onion, green chilies and green coriander in a chopper well. Now add grate carrot, spring onion, cheddar cheese, red chili powder, salt, garam masala powder, , ginger garlic paste and soaked bread slices and mix well then make kabab. Now beat eggs dip kabab and fry it.
Ingredients:
Ingredients for Gravy:
Tomatoes ½ kg
Curry leaves 6
Salt ½ tsp
Red chili powder 1tsp
Green chilies 10
Garlic 1bunch
Mint 1 bunch
Coal 1piece
Oil 4tbsp
Method:
Fry kabab well. Heat oil in pan add garlic fry well. Add kabab then add green chilies, tomatoes, curry leaves, red chili powder. Garnish kabab with mint and give a smoke of coal. Seekh kabab handi is ready.

Puri Mawa Halwa Recipe in Urdu and English
At Masala TV you can check complete Puri Mawa Halwa Recipe in Urdu and English. This is one of the best recipes by chef Rida Aftab at Masala TV show Tarka. Check out the other best recipes of chefs Rida Aftab.
Top relevant recipes of Puri Mawa Halwa Recipe in Urdu