Rose Panna Cotta Recipe | Food Diaries | Zarnak Sidhwa | Dessert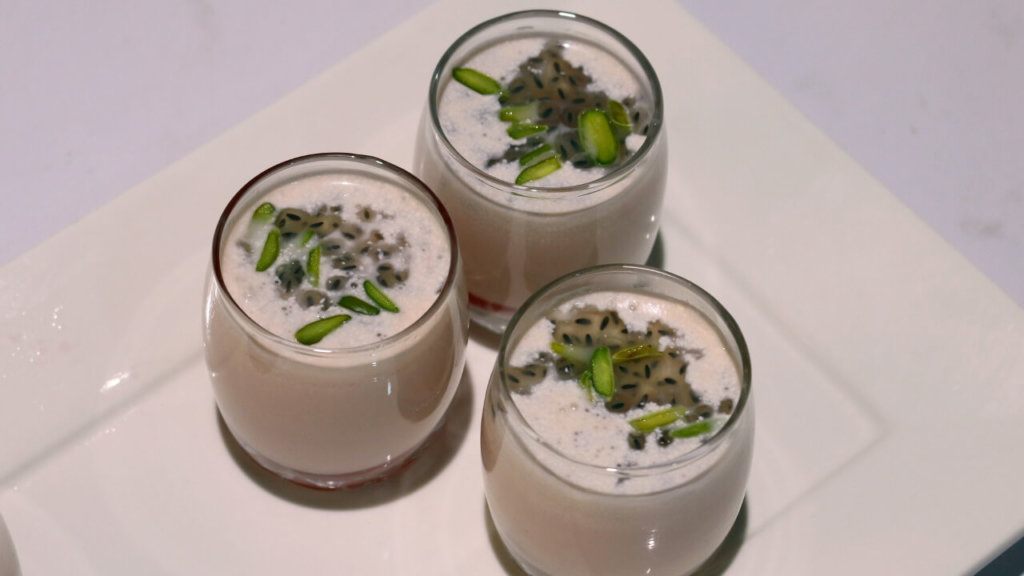 Dec 11, 2023 at 03:43 AM (GMT -05:00)

Check out the Rose Panna Cotta Recipe in Urdu. Learn how to make best Rose Panna Cotta Recipe , cooking at its finest by chef Zarnak Sidhwa at Masala TV show Food Diaries. Check all the Pakistan Cooking recipes in Urdu of Masala TV. Also Check Rose Panna Cotta Recipe , ingredients and complete Method.
Rose Panna Cotta Recipe is an elegant dessert to serve to your friends and family at a hi-tea party. This will for sure be the most loved dessert on the table!
Watch this Masala TV video to learn how to Rose Pannacotta And Ash Reshteh Recipes. This show of Food Diaries with Chef Zarnak Sidhwa aired on 20 March 2020.
Ingredients:
300 ml cream
100 ml milk
70 gms sugar
2 tsp gelatine powder
3 tbsp rose syrup
1 tbsp pistachio chopped
2-3 tbsp rose syrup to drizzle
2 tbsp basil seeds, soaked in water
Method:
Soak the gelatine powder in 3 tbsp cold water. Once the water is absorbed, heat on very low till melted and set aside. Gently heat the cream, milk and sugar in a pan, stirring gently until the sugar melts. Add the gelatine. Stir well to dissolve. Strain in a bowl and then add the rose syrup and mix well. Pour into serving glasses and chill for at least 4 hours or overnight to set.
Top with a drizzle of more rose syrup and chopped pistachios once set and just before serving add a tbsp of soaked basil seeds too.
Ingredients:
¼ cup chickpeas
¼ cup cannellini white beans
salt and ground black pepper
½ kg spinach
2 bunches coriander
1 bunch parsley
1 bunch dill
1 bunch green garlic
20 mint leaves
6 tablespoons olive oil
2 large onions, 1 finely chopped and 1 thinly sliced
2 garlic cloves, minced
1 cup brown lentils
½ teaspoon turmeric
4 cups chicken or beef stock or water
1 tbsp yogurt
8 oz very thin soup noodles
1 tablespoon dried mint
Method:
Soak the beans and chickpeas overnight in water. Heat oil, add the chopped onion and salt. Cook until the onion is golden. Add garlic and cook. Drain the water from the beans and add along with the lentils, turmeric and 1 teaspoon pepper. Cook for 2 minutes, stirring. Add the chopped spinach and herbs, along with stock or water, and stir to combine. Partly cover the pot with a lid and bring to a boil, then reduce the heat to simmer the soup for 1 hour, stirring regularly to prevent the greens from sticking and burning. If the soup remains very thick even after the greens have wilted, add another 1 to 2 cups water, as needed to thin it. Add the noodles. Stir gently to mix in the noodles and prevent them from sticking together, then reduce heat and simmer, stirring occasionally, until noodles are soft and chewy and the beans are completely tender. Heat 2 tablespoons oil, add sliced onion and a generous pinch of salt. Cook until golden brown. Spread cooked onion onto a paper towel-lined plate to absorb excess oil; let cool. Wipe out pan and return to medium heat. Add remaining 1/3 cup oil and warm gently over low heat, then stir in dried mint and remove from heat. Set mint oil aside and allow to steep for at least 5 minutes. To serve, ladle soup into individual bowls. Drizzle with yogurt and mint oil, then top with a sprinkling of golden onions.

Rose Panna Cotta Recipe in Urdu and English
At Masala TV you can check complete Rose Panna Cotta Recipe in Urdu and English. This is one of the best recipes by chef Zarnak Sidhwa at Masala TV show Food Diaries. Check out the other best recipes of chefs Zarnak Sidhwa.
Top relevant recipes of Rose Panna Cotta Recipe in Urdu