Thai Khao Soi Recipe | Food Diaries | Masala TV | Zarnak Sidhwa | Thai Food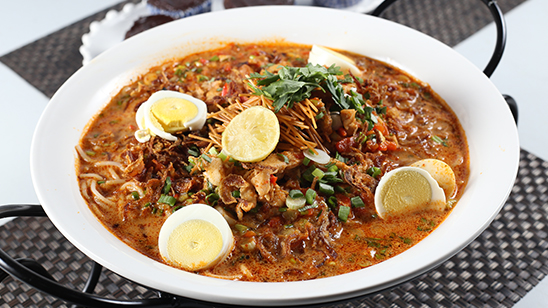 Sep 28, 2023 at 04:33 AM (GMT -04:00)

Check out the Thai Khao Soi Recipe in Urdu. Learn how to make best Thai Khao Soi Recipe , cooking at its finest by chef Zarnak Sidhwa at Masala TV show Food Diaries. Check all the Pakistan Cooking recipes in Urdu of Masala TV. Also Check Thai Khao Soi Recipe , ingredients and complete Method.
Learn how to make special tasty Thai Khao Soi in easy steps. Don't forget to share your reviews in the comments!
Watch this Masala TV video to learn how to make Thai Khao Soi and Easy Cupcakes Recipes. This show of Food Diaries with Chef Zarnak Sidhwa aired on 14 September 2021.
Ingredients:
Noodles (boiled) 1½ cups
Boneless chicken (cut into strips) 200 gm
Spring onions (chopped) 2
Garlic cloves (minced) 1 tsp
Ginger (grated) 1 tsp
Thai red curry paste ¼ cup
Red chili powder 1 tsp
Red capsicum (roasted) 1
Coconut milk ½ cup
Soy sauce 3 tsp
Worcestershire sauce ½ tsp
Fish sauce ¼ tsp
Brown sugar ¼ tsp
Chicken stock ½ cup
Salt a pinch
Oil 2 tbsp
For The Toppings:
Onion (sliced) 1
Eggs (boiled) 2
Coriander leaves 2 tbsp
Spring onion (chopped) 1
Lemon (sliced) 1
Method:
Heat oil. Add chopped spring onions and sauté. Then add the grated ginger and minced garlic. Sauté. Add the Thai red curry paste and mix in. Grind the chopped roasted capsicum into a paste with little coconut milk. Add this into the wok and cook further. Then add the boneless chicken and mix. Cover and cook. Then add the remaining coconut milk, soy sauce, fish sauce, Worcestershire sauce and chicken stock. Let this simmer until the chicken is done. Then add the sugar and salt. To serve, place some boiled noodles in a bowl. Pour the chicken curry on top, garnish with boiled eggs, chopped spring onions, sliced onion, coriander leaves and a squeeze of lemon and serve.
Ingredients For Cupcakes:
Flour 225gm
Caster sugar 350gm
Cocoa powder 85gm
Baking powder 1½ tsp
Bicarbonate of soda 1½ tsp
Eggs 2
Milk 250ml
Oil 125ml
Vanilla essence 2 tsp
Boiling water 250ml
For The Chocolate Icing:
Chocolate 200gm
Double cream 200ml
Method:
For the cupcakes, place all of the ingredients, except the boiling water, into a large mixing bowl. Beat the mixture until smooth and well combined. Add the boiling water to the mixture, a little at a time, until smooth. Divide the batter between the cupcake cases and bake in the oven at 180 degrees C for 25minutes, or until a skewer inserted into the centre comes out clean. Allow to cool completely before icing.
For the chocolate icing, heat the chocolate and cream in a saucepan over a low heat until the chocolate melts. Remove the pan from the heat and whisk the mixture until smooth, glossy and thickened. Set aside to cool for 1–2 hours, or until thick enough to spread over the cupcakes.

Thai Khao Soi Recipe in Urdu and English
At Masala TV you can check complete Thai Khao Soi Recipe in Urdu and English. This is one of the best recipes by chef Zarnak Sidhwa at Masala TV show Food Diaries. Check out the other best recipes of chefs Zarnak Sidhwa.
Top relevant recipes of Thai Khao Soi Recipe in Urdu