Vegetable Lasagna Recipe | Dawat | Abida Baloch | Italian Food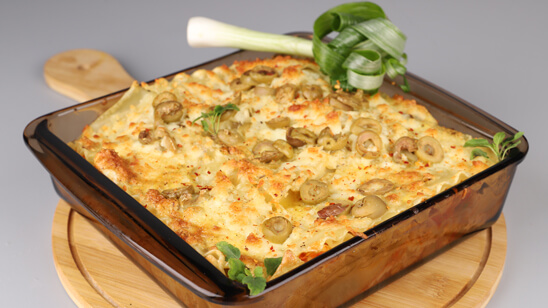 Sep 17, 2021 at 05:38 AM (GMT -04:00)

Check out the Vegetable Lasagna Recipe in Urdu. Learn how to make best Vegetable Lasagna Recipe , cooking at its finest by chef Abida Baloch at Masala TV show Dawat. Check all the Pakistan Cooking recipes in Urdu of Masala TV. Also Check Vegetable Lasagna Recipe , ingredients and complete Method.
Vegetable Lasagna is the best way to make your favorite food healthy. Make this healthy, wholesome and fulfilling dish for your weekend feast.
Watch this Masala TV video to learn how to make Vegetable Lasagna and Italian Beef and Rice Casserole Recipes. This show of Dawat with Chef Abida Baloch aired on 28 January 2021.
Ingredients:
Lasagna sheets boiled 1 packet
Oil 1/4 cup
Chopped onion 1 cup
Minced garlic 1 tbsp
Crushed red pepper flakes 1 tbsp
Mix vegetables 2 cup
Chopped tomatoes 1 cup
Fresh basil leaves, chopped handful
Mozzarellas cheese 1 cup
Cheddar cheese 1 cup
Eggs 2
Salt and black pepper to taste
Method:
Preheat oven:
Heat the oil in a pan. Add onion and cook, stirring occasionally until translucent. Add the garlic, red pepper flakes, vegetables, salt paper then cook, until softened but still with some crunch Stir in crushed tomatoes cook until the liquid has thickened and reduced by half, Add the basil and set aside.
MAKE CHEESE FILLING:
stir the both cheese, eggs, and a 1/2 teaspoon of salt in a medium bowl until blended.
ASSEMBLE LASAGNA:
Spoon just enough vegetable mixture into the baking dish to lightly cover the bottom Arrange sheets lengthwise and side by side to cover the bottom, Spread Top with vegetable mixture and repeat with remaining cheese and vegetables. Finish with cheese, bake for 10 minutes, or until cheese is crusty around the edges and Serve.
Ingredients:
Onion, diced 1
Beef mince 300 gm
Tomatoes, diced 1cup
Mixed veggies 1 cups
White rice 1/2 cup
Beef broth 2 cup
Dried rosemary 1 tsp
Garlic 1 tsp
Basil leaves few
Salt and pepper to taste
Mozzarella cheese 1 cup
Method:
Brown the ground beef and onion in a pan until no longer pink, add in the tomatoes, mixed veggies oregano, garlic salt and pepper and cook for few minutes
Now add rice, beef broth, Stir until combined and bring to a light boil. Reduce heat to a simmer, cover and let cook until rice is tender Fluff rice with fork and top with the mozzarella cheese. Cover with the lid for about 3 minutes to let cheese melt. Sprinkle with basil and Serve.

Vegetable Lasagna Recipe in Urdu and English
At Masala TV you can check complete Vegetable Lasagna Recipe in Urdu and English. This is one of the best recipes by chef Abida Baloch at Masala TV show Dawat. Check out the other best recipes of chefs Abida Baloch.
Top relevant recipes of Vegetable Lasagna Recipe in Urdu