Zafrani Murgh Curry Recipe | Dawat | Abida Baloch | Desi Food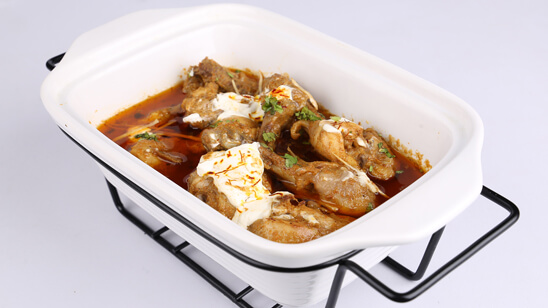 May 31, 2023 at 11:49 AM (GMT -04:00)

Check out the Zafrani Murgh Curry Recipe in Urdu. Learn how to make best Zafrani Murgh Curry Recipe , cooking at its finest by chef Abida Baloch at Masala TV show Dawat. Check all the Pakistan Cooking recipes in Urdu of Masala TV. Also Check Zafrani Murgh Curry Recipe , ingredients and complete Method.
Give your taste buds a treat with this Zafrani Murgh Curry that has the most delicious taste. Try this one today!
Watch this Masala TV video to Learn how to make Zafrani Murgh Curry ,  Besan Ki Roti  And Lehsan Ki Chutney Recipes. This show of Dawat with Chef Abida Baloch aired on 3 November 2020.
Ingredients:
Chicken 500 gm
Yogurt 1/2 cup
Cream 3 tbsp
Lemon juice 2 tsp
Saffron strands 1/4 tsp
Red chili powder 1 tsp
Cumin powder 1 tsp
Coriander powder 1tsp
Salt to taste
All spice powder 1/4 tsp
Coriander leaves (chopped) for garnish
Method:
In a small bowl, to the saffron strands, add a teaspoon of water and let it sit for about 5 minutes to soak. In a mixing bowl, whisk together lemon juice, cream and yogurt with a fork till combined. Save a tablespoon of cream for garnishing finally. Also add cumin powder, coriander powder, red chili powder, salt to the bowl. Now add the chicken pieces to the yogurt and spices mixture, mix well with fingers such that all the chicken pieces are coated well. Also add the soaked saffron with its water and give a mix. Keep the chicken to marinate in the freezer for at least 1-2 hours. Transfer the marinated chicken in a non stick pan along with yogurt and heat on medium flame with the lid closed. Cook on low-medium heat till the chicken is done and cooked to tender. Once the chicken is cooked completely, transfer to a serving bowl, add the reserved fresh cream and saffron strands. Garnish with coriander, sprinkle the all spice powder and serve.
Ingredients:
Gram Flour 2 cups
Wheat flour 1 cup
Fresh coriander (finely chopped) 3 tbsp
Onion (chopped) 1 medium
Oil 3 tbsp
Green chilies (chopped) 2
Coriander seeds (crushed) 1tbsp
Red chili (crushed) 1tbsp
Salt to taste
Cumin seeds 1 tbsp
Ginger garlic paste 1 tbsp
Water as required
Clarified butter for frying
Method:
In bowl, add chickpea flour, wheat flour, fresh coriander, onion, oil, green chili, coriander seeds (crushed), red chili crushed, salt, cumin seeds, ginger garlic paste and mix well. Then add water, mix and knead well. The consistency should be soft. It helps if you knead it with a wet hand. Cover and rest dough for 15minutes. Now make medium balls of the dough. Flatten the ball, sprinkle some wheat flour to the dough ball. Then roll the balls with the help of rolling pin into a flat round circle. Heat clarified butter on tawa, put the roti on a tawa pan. First cook one side, apply ghee, turn and cook the other side. Serve besan ki roti with chutney.
Ingredients:
Garlic cloves 1cup
Whole red chilies 12-15
Cumin seeds 1 tbsp
Salt to taste
Water as required
Oil 3-4 tbsp
Method:
Blend all ingredients together except oil. Heat oil in a saucepan and add grinded ingredients, mix well until done.

Zafrani Murgh Curry Recipe in Urdu and English
At Masala TV you can check complete Zafrani Murgh Curry Recipe in Urdu and English. This is one of the best recipes by chef Abida Baloch at Masala TV show Dawat. Check out the other best recipes of chefs Abida Baloch.
Top relevant recipes of Zafrani Murgh Curry Recipe in Urdu