Barbeque Handi Recipe | Dawat | Abida Baloch | Desi Food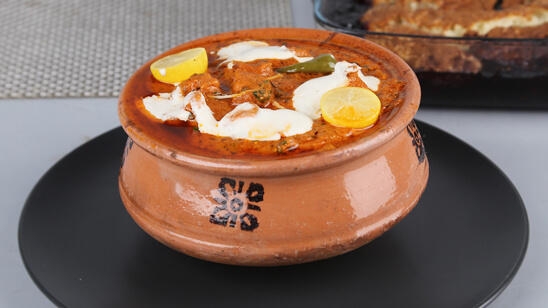 May 31, 2023 at 12:20 PM (GMT -04:00)

Check out the Barbeque Handi Recipe in Urdu. Learn how to make best Barbeque Handi Recipe , cooking at its finest by chef Abida Baloch at Masala TV show Dawat. Check all the Pakistan Cooking recipes in Urdu of Masala TV. Also Check Barbeque Handi Recipe , ingredients and complete Method.
Doesn't your mouth water when you hear Barbeque Handi? Well, we are certainly not surprised and with a recipe so great, you'll enjoy it even more!
Watch this Masala TV video to learn how to make Barbeque Handi and Blueberry cobbler Recipes. This show of Dawat with Chef Abida Baloch aired on 18 February 2021.
Ingredients:
Chicken boneless 500 gm
Cayenne pepper 1tsp
Yogurt 4 tbsp
Salt to taste
Dried fenugreek leaves 1tsp
Coconut powder 1tbsp
Ginger Garlic Paste 2 tbsp
Lemon Juice 1 tbsp
Red Chili Powder 1 tsp
Hot Spices Powder 1 tsp
Black Pepper Powder 1 tsp
Yellow food Color ¼ tsp
Oil ½ cup
Onion (chopped) 1
Green Chilies (chopped) 6-7
Tomatoes (pureed) 6
Cumin Powder 1 tsp
Coriander Powder 1 tsp
Cream 4 tbsp
Chicken Stock ½ cup
Fresh coriander (chopped)1 tbsp
Butter 1 tbsp
Ginger (julienne) 1tbsp
Method:
Put salt, ginger garlic paste, lemon juice, cayenne pepper, red chili powder, hot spices powder, black pepper powder, yellow food color and oil on chicken, mix well and leave for 30 minutes. Then grill this marinated chicken. Heat oil in a pan then add onion, green chilies, ginger garlic paste and saute them. Then add pureed tomatoes, salt, red chili powder, cumin powder, coriander powder and cook for 3-4 minutes. Now add grilled chicken, yogurt, coconut powder, cream, chicken stock and cook for 2-3 minutes. Add ginger, fresh coriander, dried fenugreek leaves, butter and serve.
Ingredients:
Blueberries 2 cups
Granulated sugar 1/4 cup
Lemon zest 1/2 tsp
For the batter:
Butter 3 tbsp
All-purpose flour 1/2 cup
Granulated sugar 1/2 cup
Baking powder 1 tsp
Salt 1/4 tsp
Milk 6 tbsp
Ground cinnamon 1tsp
Vanilla ice cream to serve.
Method:
Preheat oven to 350 degrees F. Pour melted butter into baking dish. Add blueberries, sugar and zest to a bowl and stir to combine. In a separate bowl mix together the batter ingredients: flour, sugar, baking powder, and salt. Stir in the milk, just until combined. Pour blueberries over melted butter in pan. Drizzle batter over the top. Sprinkle with a little bit of cinnamon. Bake at 350 degrees for about 35-40 minutes, or until lightly golden on top. Serve warm, with a scoop of ice cream.

Barbeque Handi Recipe in Urdu and English
At Masala TV you can check complete Barbeque Handi Recipe in Urdu and English. This is one of the best recipes by chef Abida Baloch at Masala TV show Dawat. Check out the other best recipes of chefs Abida Baloch.
Top relevant recipes of Barbeque Handi Recipe in Urdu