Creamy Potato Salad Recipe | Masala Mornings | Shireen Anwar | Appetizer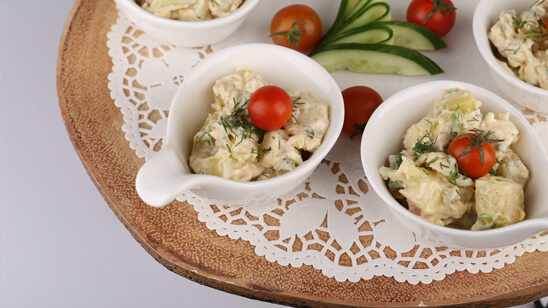 Dec 05, 2022 at 12:06 PM (GMT -05:00)

Check out the Creamy Potato Salad Recipe in Urdu. Learn how to make best Creamy Potato Salad Recipe , cooking at its finest by chef Shireen Anwar at Masala TV show Masala Mornings. Check all the Pakistan Cooking recipes in Urdu of Masala TV. Also Check Creamy Potato Salad Recipe , ingredients and complete Method.
Creamy Potato Salad has the creamiest texture that makes it feel heavenly! Have yourself some amazing salad this weekend!
Watch this Masala TV video to learn how to make Creamy Potato Salad , Barfi cupcakes and Zinger chicken wraps Recipes. This show of Masala Mornings with Shireen Anwar aired on 17 December 2020.
Ingredients:
Potato medium 1
Mayo 1 cup
Cream ½ cup
Salt 1 tsp
Paprika ½tsp
Cucumber pickle chopped 1
Pickle juice 2 tbsp
Dijon mustard 1 tbsp
Yellow mustard 1 tbsp
Sugar 2 tbsp
Dill chopped 1 tbsp
Spring onion leaves chopped 3 Tbsp
Onion chopped 3 Tbsp
Boiled eggs 2
Method:
Mix all the above ingredients together and add potatoes and all the veggies with Hard boiled eggs chopped .
And mix garnish with dill and 1 boiled egg
Ingredients:
Eggs 4
Castor sugar 1 cup
Rose essence 1 tsp
Cardamom powder 1 tsp
Flour 1 ½ cup
Baking powder 2tsp
Oil ½ cup
Buttermilk ½ cup
Ingredients for Icing:
Butter 125gm
Icing sugar 1-½ cup
Powder milk ½ cup
Milk 2 tablespoon
Cardamom powder ½ tsp
Rose essence ½ tsp
Method:
Mix together butter milk with oil .Beat eggs & sugar till fluffy. Add in the dry ingredients alternating with the oil mixture. Bake at 180deg for about 15-20 minutes
method for icing
Mix well and decorate as desired
Ingredients to marinate chicken:
Chicken 1kg
Ginger 1 tbsp
Garlic 1 tbsp
Salt 1tsp
Red chili powder 1 tbsp
Buttermilk 1- ½ cup
Egg 1
Ingredients for coating:
Flour 1- 1/2 cup
Pepper 2 tbsp
Paprika 2 tbsp
Salt to taste
Pepper 1 Tsp
Garlic powder 1 tbsp
Onion powder 1 tbsp
Method:
marinate chicken with all ingredients Mix everything together and keep in fridge for ½ an hour In a bowl take chicken pieces, coat well in flour mixture and fry them in hot oil till golden brown. Then take wrap spread mayo on it . Now add chopped lettuce and tomatoes Then add fried chicken .Close tightly and serve with fries.

Creamy Potato Salad Recipe in Urdu and English
At Masala TV you can check complete Creamy Potato Salad Recipe in Urdu and English. This is one of the best recipes by chef Shireen Anwar at Masala TV show Masala Mornings. Check out the other best recipes of chefs Shireen Anwar.
Top relevant recipes of Creamy Potato Salad Recipe in Urdu