Kofta Handi Recipe | Tarka | Rida Aftab | Desi Food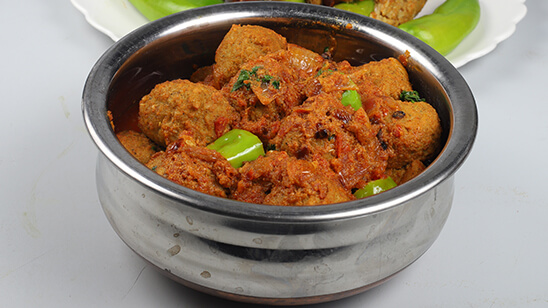 Jun 10, 2023 at 03:49 AM (GMT -04:00)

Check out the Kofta Handi Recipe in Urdu. Learn how to make best Kofta Handi Recipe , cooking at its finest by chef Rida Aftab at Masala TV show Tarka. Check all the Pakistan Cooking recipes in Urdu of Masala TV. Also Check Kofta Handi Recipe , ingredients and complete Method.
Kofta Handi is flavorful, spicy and delectable. You must make it at home for weekday lunch/dinner!
Watch this Masala TV video to learn how to make Kofta Handi , Chili Pickle Kabab and Balti Daal Recipes. This show of Tarka with Chef Rida Aftab aired on 22 June 2021.
INGREDIENTS:
Chicken kofta 1 packet
Yogurt Lassi ½ liter
Tomatoes 250g
Onions 4
Red Chili Powder 1- ½ tsp
Coriander Powder 1 tsp
Turmeric Powder 1 tsp
Small Cardamoms 6
Salt 1 tsp
Bay Leaves 2
Green Coriander ½ bunch
Green Chilies 6
Clarified butter 1 cup
Ginger Garlic 2 tsp
Ready parathas for serving
METHOD:
In a clay pot (wok), add 4 onions and make them brown. Chop 250g tomatoes. Put 2 tsp ginger garlic, 1- ½ tsp red chili powder, 1 tsp chopped coriander, 1 tsp turmeric powder, 6 small cardamoms, 1 tsp salt and 2 bay leaves. When aroma comes, then add chopped tomatoes in it. Then add Chicken kofta and cook. Put ½ liter lassi and put it on simmer for 30 minutes. When gravy becomes thick, then turn off the stove and serve with parathas
Ingredients for kabab:
Beef mince ½ kg
Onion 2
Red chili powder 1 tsp
Salt ½ tsp
Turmeric 1 tsp
All spice powder 1 tsp
Cumin ½ tsp
Whole coriander 1 tsp
Bread slices 2
Ginger garlic paste 1 tbsp
Chili pickle ingredients:
Large chili 10
Pickled masala 1 packet
Lemon juice 4 tbsp
Tomato ketchup 4 tbsp
Oil for frying
Method:
All kabab ingredients mix and pour in a chopper then grind it .for chili pickle in a bowl add all achar masala ,lemon and ketchup mix .now cut in the middle and fill the masala .then chili coat with mince and shape out .finally fry in oil and serve.
Ingredients:
Bengal Gram (boiled) 1-1/2 cup
White lentil 1 cup
Tomatoes 250 gm
Turmeric 1 tsp
Red chili 1-1/2 tsp
Jaggery 1 tbsp
Onion 1
Mustard seeds 1 tsp
Salt ½ tsp
Oil 4 tbsp
Ingredients for oil tempering:
Onion 1
Garlic 4 cloves
Bay leaves 4
Cumin 1 tsp
Clarified butter ½ cup
Green chili as required
Coriander as required
METHOD:
In a wok, heat oil and sauté onion until golden brown. Then add tomato, turmeric, red chili powder, jaggery, mustard seeds and water. Cover it for a while. Once it is soft, add boiled chickpea and white lentil, cover for 10 minutes. Then add green chilies and coriander.
For oil tempering, heat clarified butter in a wok. Sauté onions until golden brown. Then add garlic, bay leaves and cumin. Now add to the lentil mixture and serve hot.

Kofta Handi Recipe in Urdu and English
At Masala TV you can check complete Kofta Handi Recipe in Urdu and English. This is one of the best recipes by chef Rida Aftab at Masala TV show Tarka. Check out the other best recipes of chefs Rida Aftab.
Top relevant recipes of Kofta Handi Recipe in Urdu