Mutanjan Sevaiyan Recipe | Lazzat | Masala TV | Samina Jalil | Dessert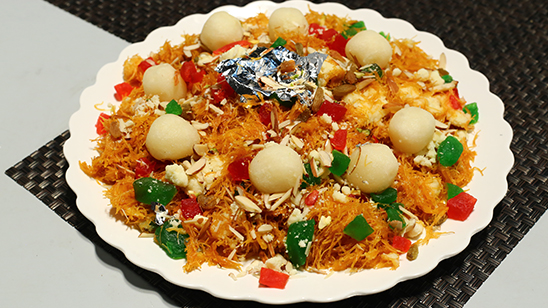 May 18, 2022 at 03:15 PM (GMT -04:00)

Check out the Mutanjan Sevaiyan Recipe in Urdu. Learn how to make best Mutanjan Sevaiyan Recipe , cooking at its finest by chef Samina Jalil at Masala TV show Lazzat. Check all the Pakistan Cooking recipes in Urdu of Masala TV. Also Check Mutanjan Sevaiyan Recipe , ingredients and complete Method.
Mutanjan Sevaiyan will become your favorite dessert as you take the first bite. Give it a try, it tastes incredible.
Watch this Masala TV video to learn how to make Mutanjan Sevaiyan , Chicken Nihari and Butter naan Recipes. This show of Lazzat with Chef Samina Jalil aired on 23August 2021.
Ingredients:
Vermicelli 2 cups
Clarified butter ¾ cup
Sugar 1 cup
Whole dried milk ¾ cup
Cham cham(mithai) 1 cup
Milk 1 cup
Mix dry fruits as required
Green & red ashrfiyan as required
Sterling Silver paper 1
Small cardamoms 3-4
Screw pine essence few drops
Yellow food color 1 pinch
Method:
Heat clarified butter and fry small cardamom .now add Vermicelli and fry .then add 1 cup of milk ,1 cup of water and sugar add .after this add yellow color and cook till then sugar dissolve .now fried vermicelli add and cook till than boil .then add screw pine add and leave on dum .then add whole dried milk and leave on dum for 5 minutes .finally dish our and mix dry fruits ,green and ashrarfiyan ,chamcham and garnish with silver paper and serve .
Ingredients:
Chicken 8pieces
Salt, pepper, turmeric as required
Chopped onion 1
Ginger garlic paste 2tbsp
Chicken stock 3cup
Plain flour ¾ cup
Fennel ground ½ tsp
All spice ¾ tsp
Ingredients for nihari masala:
Cardamom 1
Small cardamom 2-3
Nutmeg , mace powder ½ tsp
Fennel ¾ tsp
Dried ginger ¼ tsp
Cumin powder 1tsp
Black salt 2pinch
Coriander, green chilies as required
Ginger as required
Method:
For nihari maslaa grind all ingredients . now heat clarified butter in a pan sauté onion . now add chicken pieces , salt, pepper , turmeric, ginger garlic paste , fennel and all spice , now roast well, now soak plain flour in water add this in gravy cook till thick dish out and serve .
Ingredients:
Flour ½ kg
Salt 1 tsp
Sugar 1 tbsp
Nigella sativa 2 pinch
Butter 2-3 tbsp
Finely cut coriander 2 tbsp
Yeast 1 tbsp
Water ½ cup
Method:
In a bowl add ½ cup of water and yeast and rest for 10 min , now in flour add salt , sugar and melted butter . now add yeast water in it and kneed well . let it rise , sprinkle onion seeds give shape of naan bake in oven for 5 to 6min sprinkle coriander and butter and serve .

Mutanjan Sevaiyan Recipe in Urdu and English
At Masala TV you can check complete Mutanjan Sevaiyan Recipe in Urdu and English. This is one of the best recipes by chef Samina Jalil at Masala TV show Lazzat. Check out the other best recipes of chefs Samina Jalil.
Top relevant recipes of Mutanjan Sevaiyan Recipe in Urdu