Sufaid Lobia Recipe | Tarka | Rida Aftab | Desi Food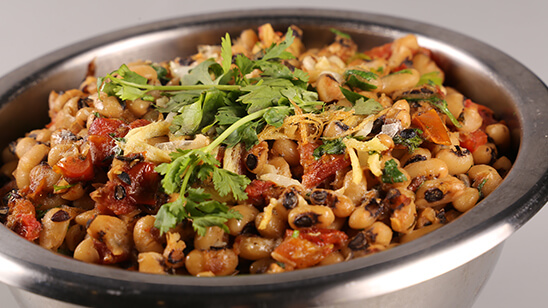 Dec 03, 2023 at 06:28 PM (GMT -05:00)

Check out the Sufaid Lobia Recipe in Urdu. Learn how to make best Sufaid Lobia Recipe , cooking at its finest by chef Rida Aftab at Masala TV show Tarka. Check all the Pakistan Cooking recipes in Urdu of Masala TV. Also Check Sufaid Lobia Recipe , ingredients and complete Method.
Sufaid Lobia is easy to prepare, healthy and tasteful to have. Have it as a meal or as a sideline with a main dish, either way, you'll like it!
Watch this Masala TV video to learn how to make Sufaid Lobia , White Karahi Masala and Peshwari Kheer Recipes. This show of Tarka with Chef Rida Aftab aired on 23 April 2021.
Ingredients:
Beans (boiled) ½ kg
Tomatoes 250gm
Finely Chopped Ginger 1 piece
Onion 1
Green Chilies 4
Garlic Cloves 4
Butter 100 gm
Red Chili (crushed) 1 tsp
Fenugreek Seeds 1tbsp
Cumin Seeds 2 tsp
Salt ½ tsp
Oil 4 tbsp
Method:
In a pan, heat oil add onion and fry.
Add green chilies, tomatoes, cumin seeds, fenugreek seeds, red chili, salt and fry.
Then add in beans and mix well.
Remove from the stove.
For tempering:
Heat butter, add garlic and fry.
Add cumin seeds, finely chopped ginger and give tempering.
Sufaid Lobia is ready.
Ingredients:
Chicken karahi pieces 1 kg
Onions (grinded) 1 cup
Red chili flakes 2 tsp
Yogurt 250 gm
Cream 1 cup
Green chili paste 6 tbsp
Black pepper (crushed) 1 tbsp
Cumin seeds (roasted and crushed) 1 tbsp
Ginger garlic paste 1 tbsp
Salt 1 tsp
Fresh coriander ½ bunch
All spice powder 1 tsp
Oil as required
Method:
Heat oil and fry ginger garlic paste and grinded onions. Then add chicken karahi pieces and salt. Cover and cook. Once the chicken is cooked add yogurt, cream, green chilies paste, fresh coriander, red chili flakes, and crushed black pepper and cumin seeds. Cover and cook for about 10 minutes. Lastly add all spice powder and serve hot.
Ingredients:
Milk 1-1/2 liter
Rice ½ cup
Water 1-1/2 cup
Condensed milk ½ cup
Sugar ½ cup
Cardamom powder 1 tsp
Almonds & pistachio ½ cup
Walnuts ½ cup
Dates ½ cup
Rose water 1 tbsp
Sterling silver leaf for garnish
Ashrafiyan ½ cup
Method:
Soak rice for 30 minutes. Now cook them with 1-1/2 cup water until they got done. Then mashed rice well. Now cook milk with mashed rice in a pan so that mixture gets thick. Then add condensed milk and sugar and cook continuously until it gets thick. Then add rose water and green cardamom. Now add almond, pistachios, walnut and dates. Now take out kheer in serving dish and add sliced almond, pistachios and ashrafiyan. Garnish with sterling silver leaf.

Sufaid Lobia Recipe in Urdu and English
At Masala TV you can check complete Sufaid Lobia Recipe in Urdu and English. This is one of the best recipes by chef Rida Aftab at Masala TV show Tarka. Check out the other best recipes of chefs Rida Aftab.
Top relevant recipes of Sufaid Lobia Recipe in Urdu