Chili Chicken Biryani Recipe | Evening With Shireen | Chef Shireen Anwar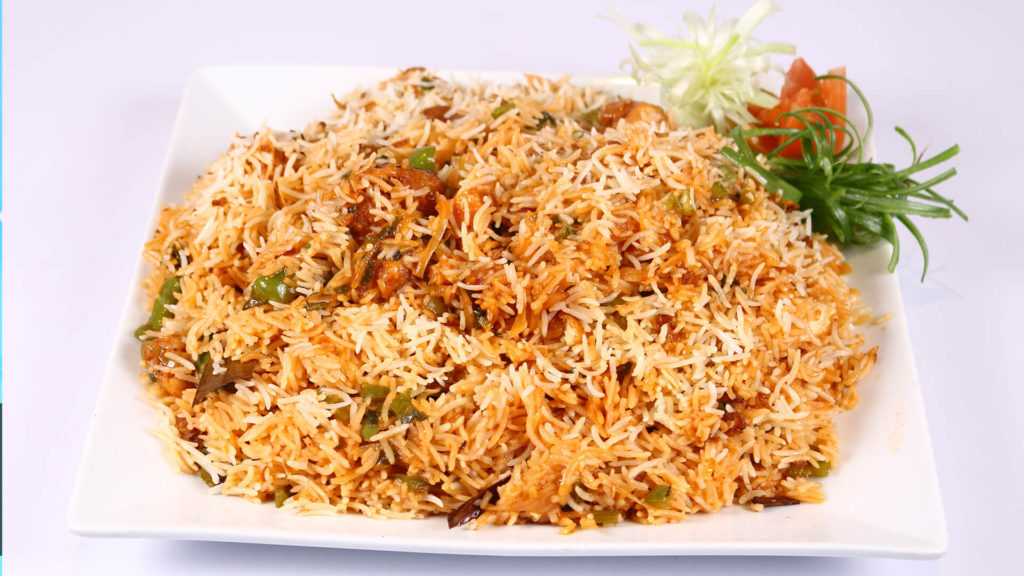 Sep 25, 2023 at 03:16 PM (GMT -04:00)

Check out the Chili Chicken Biryani Recipe in Urdu. Learn how to make best Chili Chicken Biryani Recipe, cooking at its finest by chef Shireen Anwar at Masala TV show Evening with Shireen. Check all the Pakistan Cooking recipes in Urdu of Masala TV. Also Check Chili Chicken Biryani Recipe, ingredients and complete Method.
Biryani is love! Try this amazing recipe of Chili Chicken Biryani and treat your family to this.
Watch this Masala TV video to learn how to make Chili Chicken Biryani ,Agra ka safaid gosht and Butterscotch pie Recipe. This show of Evening With Shireen with Chef Shireen Anwar aired on 19 December 2019.
Ingredients to marinate chicken:
Boneless chicken ½ kg
Flour 3 tbsp
Corn flour 2 tbsp
Soya sauce 2 tbsp
Ginger garlic 1 tbsp
Vinegar 1 tbsp
Salt 1 tsp
Green chilies 2 sliced
Crushed red 1 tsp
Ingredients for masala:
Onions 2 sliced
Green chilies 2 sliced
Capsicum 1 chopped
Garlic crushed 1 tbsp
Ginger crushed 1 tbsp
Soya sauce 2 tbsp
Ketchup ¼ cup
Chili sauce ¼ cup
Green chili garlic sauce 1 tbsp
Sugar 1 tsp
Spring onion chopped ½ cup
Corn flour 1 tbsp
Oil ½ cup
Brown onion ½ cup
Ingredients to assemble :
Rice boiled ½ kg
Garlic chopped 1 tbsp
Capsicum 1
Onion 1
Method:
Marinate chicken cubes with flour, corn flour, soya sauce, ginger garlic, vinegar, salt, crushed red pepper, mix well and deep fry and remove.
Method for masala
Heat oil, add ginger garlic chopped, green chilies, onion sliced, capsicum, soya sauce and all the rest, add fried chicken in this, lastly add spring onion chopped, one cup water, when boiling thicken with corn flour paste.
To assemble:
In a pan spread boiled rice, capsicum, spring onions then the prepared chicken with gravy, cover with rice, leave it on dum for 15 mins, mix and serve.
Ingredients:
Mutton boiled ½ kg
Yogurt 1 cup
Poppy seeds 1 tsp
Cashew nuts 10
Almonds 10
Onion chopped 1 cup
Clarified butter ½ cup
Green chilies whole 4
White pepper ½ tsp
Allspice ½ tsp
Cardamom ground ½ tsp
Mixed whole spices 1 tbsp
Nutmeg ground ¼ tsp
Mace ground ¼ tsp
Ginger garlic 1 tbsp
Salt 1 tsp
Method:
Grind together poppy seeds, cashew nuts and almonds, keep aside. Heat ghee, add whole spices and chopped onion with ginger garlic, fry for 5 mins, add salt, white pepper and boiled mutton, fry well, add yogurt mixed with grinded nut paste with 1 cup water, cover and cook, lastly add whole green chilies, allspice, grinded mace, nutmeg and elaichi powder, leave it on dum until ghee floats on top.
Ingredients :
Butter 6 ounces
Flour 6 tbsp
Egg 1
Chilled water 2 to 3 tbsp
Lemon juice 1 tbsp
Vanilla 1 tsp
Ingredients for short crust pastry:
Flour 2 cups
Butter ½ cup
Caster sugar ¼ cup
Brown sugar 1 ½ cup
Milk 2 cups
Egg yolks beaten 3
Salt ¼ tsp
Ingredients for meringue:
Whites 3 egg
Cream of tartar ¼ tsp
Icing sugar ½ cup
Method for dough:
Put the flour in a large bowl, mix in butter until crumbly. In a small bowl beat egg, water and lemon juice, gradually add to crumb mixture, tossing with a fork until the dough holds together when pressed, shape into a rectangle, wrap and refrigerate 30 mins.
Method for short crust filling:
In a sauce pan melt butter, remove from heat, add the flour, stir until smooth, stir in brown sugar, return to heat, add in milk and salt until blended, cook and stir over medium heat, until thick and bubbly, reduce heat, cook and stir 2 mins longer, remove from heat, stir 1 cup hot filling into egg yolks, return all to pan stirring constantly, bring to a gentle boil, cook for 2 mins, remove from heat, add vanilla, pour into prepared baked short crust pastry shell.
Method for meringue:
Beat egg whites and cream of tartar in a bowl until soft peaks formed, gradually beat in sugar 1 tbsp at a time until stiff, spread evenly over filling, sealing edges to crust, bake on 180 d for 15 mins until meringue is golden brown, cool pie on wire rack for 1 hour, then refrigerate for 2 hours before serving.

Chili Chicken Biryani Recipe in Urdu and English
At Masala TV you can check complete Chili Chicken Biryani Recipe in Urdu and English. This is one of the best recipes by chef Shireen Anwar at Masala TV show Evening with Shireen. Check out the other best recipes of chefs Shireen Anwar.
Top relevant recipes of Chili Chicken Biryani Recipe in Urdu