Currant Cake Recipe | Food Diaries | Zarnak Sidhwa | Dessert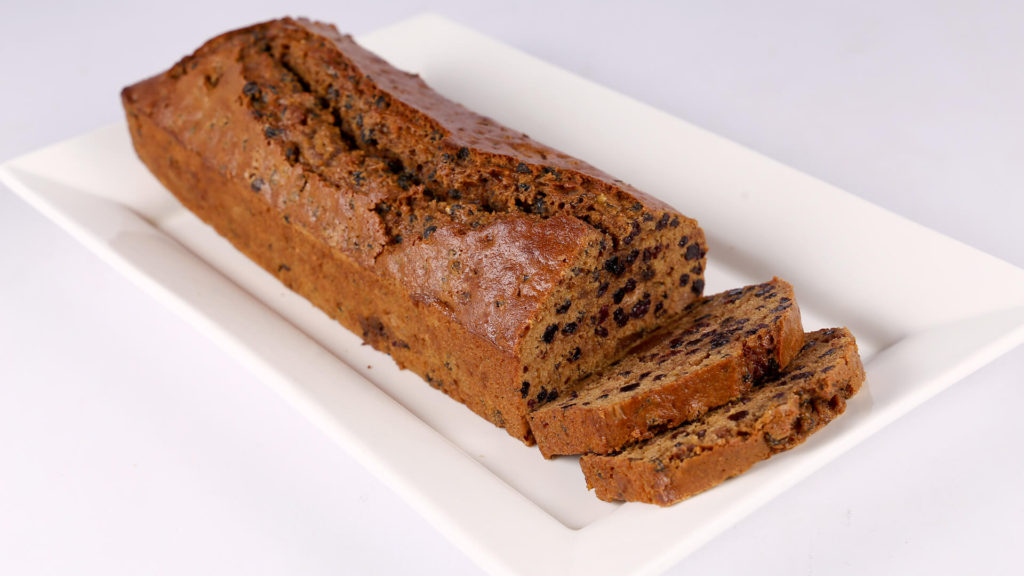 Jul 04, 2022 at 01:29 AM (GMT -04:00)

Check out the Currant Cake Recipe in Urdu. Learn how to make best Currant Cake Recipe , cooking at its finest by chef Zarnak Sidhwa at Masala TV show Food Diaries. Check all the Pakistan Cooking recipes in Urdu of Masala TV. Also Check Currant Cake Recipe , ingredients and complete Method.
This Currant Cake will make a great union with your evening tea. It has chewy chunky black currants that are always taste lovely in a cake.
Watch this Masala TV video to learn how to make Currant Cake and Coconut Chocolate Chip Cookies Recipes. This show of Food Diaries with Chef Zarnak Sidhwa aired on 31 January 2020
Ingredients:
6oz Currants
6oz Sultanas
300ml Hot tea
275gm Flour
1 tsp Baking powder
225gm Brown sugar
1 Egg
for greasing Butter
Method:
Put the currants and sultanas in a bowl and pour over the hot tea. Stir, cover and leave to soak overnight for the liquid to absorb. Add the flour, sugar and egg to the bowl of soaked fruit (if there is a little excess liquid this is fine) and mix thoroughly. Spoon into a greased and lined loaf tin and level the top. Bake at 170 degrees C for 1¾ hours, or until the cake is risen and just firm to the touch, but check it after 1¼ hours to see how it is doing. Leave to cool in the tin for about 10 minutes. Turn out the cake and remove the paper. To serve, cut into fairly thick slices and spread with butter to serve.
Ingredients :
1/4 cup Coconut flakes
1/2 cups Chocolate chips
3 tbsp Walnuts
1½ cups Flour
1/2 tsp Baking soda
1/4 tsp Baking powder
a pinch of Salt
1/2 cup Coconut sugar
2 tbsp Unsalted butter
1/4 cup Olive oil
2 tbsp Coconut oil
1 Egg
1 tsp Vanilla or coconut essence
Method :
Add baking soda and baking powder in the all-purpose flour bowl and whisk to combine. Keep aside mix the wet ingredients: add the egg in in a large bowl and whisk.
Then add olive oil, coconut oil, butter to the whisked eggs and whisk everything together for 1/2 minute. Now add sugar to this mixture and whisk for another 1/2 minute. Make the chewy coconut chocolate chip cookies: take the wet ingredients mixture and add 1/2 cup flour to it. Gently fold and mix the flour and egg mixture till well combines.
Now add coconut flakes, chocolate chip, and pecan along with remaining flour.
Fold and mix everything to a cookie consistency. (if the dough feels too hard you can add 2tbsp milk to it). Take an oiled/buttered or lined cookie sheet and an ice-cream scoop (you can use spoons too). Scoop the cookie dough using the ice-cream scoop and place it on the cookie sheet. Similarly, place more cookie dough about 2 inches apart (giving them room to expand when heated). Bake the cookies for 8-9 minutes. Once baked, remove the cooking sheet from oven and place the cookies on a wire rack to cool (takes about 2 minutes).
Once cooled, serve and enjoy

Currant Cake Recipe in Urdu and English
At Masala TV you can check complete Currant Cake Recipe in Urdu and English. This is one of the best recipes by chef Zarnak Sidhwa at Masala TV show Food Diaries. Check out the other best recipes of chefs Zarnak Sidhwa.
Top relevant recipes of Currant Cake Recipe in Urdu