Daliya Masala Recipe | Tarka | Rida Aftab | Desi Food | Masala TV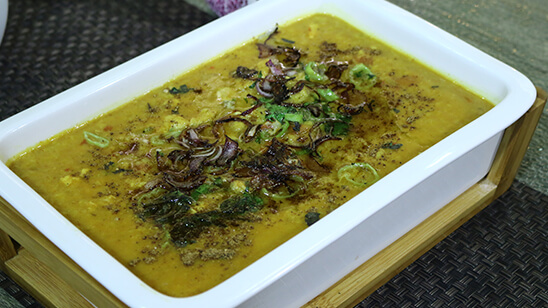 Aug 08, 2022 at 06:35 PM (GMT -04:00)

Check out the Daliya Masala Recipe in Urdu. Learn how to make best Daliya Masala Recipe , cooking at its finest by chef Rida Aftab at Masala TV show Tarka. Check all the Pakistan Cooking recipes in Urdu of Masala TV. Also Check Daliya Masala Recipe , ingredients and complete Method.
Daliya Masala is a desi dish that none us can resist and now you can have this at the convenience of your home with this scrumptious recipe!
Watch this Masala TV video to learn how to make Daliya Masala , Koftay ka salan and Mutton khara masala Recipes. This show of Tarka with Chef Rida Aftab aired on 13 July 2021.
Ingredients:
Porridge 2 cups
Split green gram 250gm
Boneless chicken ½ kg
Tomatoes 4
Onion 1
Ginger garlic paste 2tsp
Cumin 2tsp
Red chili powder 1-1/2 tsp
Turmeric ½ tsp
All spice 1tsp
Green chilies 4
Coriander ½ bunch
Oil ½ cup
Haleem masala 2tbsp
Method:
Soak lentil and oat for 2 hours, now add 2 glass water and cook on low flame , when lentil gets tender remove from heat , now heat oil and fry onion till brown , now add ginger garlic paste , and chicken ,cover & cook for 5 min , now add tomatoes cumin , red chili powder , turmeric , and all spice and roast well . now add haleem masala and boil oat and give dum for 10 min , lastly sprinkle coriander and finely chopped chilies and serve .
Ingredients:
Chicken kofta 1 packet
Onion 1 (large)
Garlic 1 tbsp
Ginger 1 tbsp
Oil ½ cup
Salt ½ tsp
Cream 1 packet
Dried fenugreek leaves 2 tbsp
Turmeric powder 1 tsp
All spice powder 1 tsp
Dry red chili paste 4 tbsp
Cumin seeds 1 tbsp
Yogurt 1 cup
Nutmeg a pinch
Mace a pinch
Red chili powder 1 ½ tsp
Method:
Heat oil and fry chicken koftas for 5 minutes. Then remove it. Now in the same pan fry onion until golden brown. Then add garlic and ginger, fry well. Now add the remaining ingredients and cook for 5 minutes until the mixture gets to boil. Then add fried chicken koftas and mix well. Lastly cook for another 5 minutes and serve hot.
Ingredients:
Mutton ½ kg
Ginger garlic paste 1tbsp
Cumin 1tsp
Coriander whole 2tsp
Black pepper 1tsp
Cardamom 4
Cloves 2
Cinnamon 1piece
Red chili round 10-12
Onion 2
Tomatoes 2
Salt 1tsp
Turmeric 1tsp
Oil 1cup
Coriander ½ bunch
Green chilies 4
Method:
Heat oil add mutton , onion , ginger garlic paste , salt , turmeric, and tomatoes, cover and cook, now crush all whole spices , now add this spices in mutton , add coriander , green chilies cook on high flame and serve.

Daliya Masala Recipe in Urdu and English
At Masala TV you can check complete Daliya Masala Recipe in Urdu and English. This is one of the best recipes by chef Rida Aftab at Masala TV show Tarka. Check out the other best recipes of chefs Rida Aftab.
Top relevant recipes of Daliya Masala Recipe in Urdu