Lasagna Rollups Recipe | Dawat | Abida Baloch | Fusion Food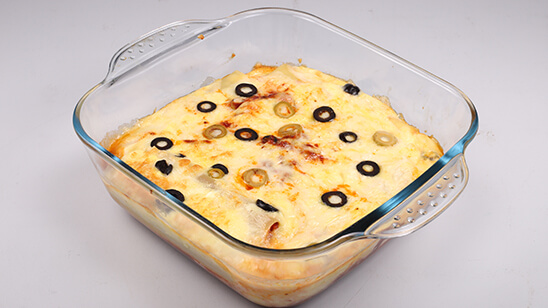 Aug 04, 2021 at 12:05 PM (GMT -04:00)

Check out the Lasagna Rollups Recipe in Urdu. Learn how to make best Lasagna Rollups Recipe , cooking at its finest by chef Abida Baloch at Masala TV show Dawat. Check all the Pakistan Cooking recipes in Urdu of Masala TV. Also Check Lasagna Rollups Recipe , ingredients and complete Method.
Lasagna Rollups is just the fusion of all our favorites and we just can't seem to resist it. This this undeniably awesome dish for lunch today!
Watch this Masala TV video to learn how to make Lasagna Rollups And Beef Angara Qeema Recipes. This show of Dawat with Chef Abida Baloch aired on 17 June 2021.
Ingredients:
Lasagna sheets cooked 1 packet
Mushrooms 1 cup
Olives 1 cup
Tomato paste 5 tbs
Diced onion 1 cup
Garlic cloves minced 3
Salt to taste
Black pepper 1tsp
Crushed red chilies 1tsp
Dried oregano ½ tsp
Cheddar cheese 1cup
Egg 1
Mozzarella cheese shredded 1 cup
Coriander chopped ¼ cup
Method:
Preheat oven. In a deep pan, over heat, Add onion and cook until softened, Add garlic, salt, pepper and oregano and Sautee another minute. Add tomato pst, olives, Mushrooms, bring to a simmer and turn off the heat. Spread 1/2 cup of sauce over the bottom of a casserole dish
Mix cheese and egg and set aside. Arrange noodles over a large baking sheet in a single layer. Spread 1/4 cup of cheese over the top of each noodle. Add a heaping Tbsp of sauce in a center of the noodle. Roll noodles up and arrange in the prepared casserole dish. Spread remaining meat sauce over the tops of roll-ups and sprinkle on the remaining mozzarella cheese.
Bake until cheese is lightly golden. Garnish with coriander to serve.
Ingredients:
Beef mince 1/2 kg
Oil 1/2 cup
Fried onion, crushed 1/2 cup
Papaya paste 1 tbsp
yogurt 1/2 cup
Ginger garlic paste 1 tbsp
Red chili powder 2 tsp
Cumin seeds, roasted and crushed 1 tsp
All spice powder 1-1/2 tsp
Coriander powder 2 tsp
Turmeric powder 1/2 tsp
Salt to taste
Coal as required
Onion rings few
Coriander leaves few
Green chilies few
Lemon wedges for garnishing
Method:
Place mince and all ingredients in a large bowl. Mix until well combined.
Cover and marinate overnight to blend flavors. Heat oil in pan add marinated mince. Stir and cook on low flame for 40 minutes or until cooked through. Now give dum of coal for a while. Dish it out. Garnish with ring onion, lemon wedges, green chilies, and coriander leaves. Angara qeema is ready to serve.

Lasagna Rollups Recipe in Urdu and English
At Masala TV you can check complete Lasagna Rollups Recipe in Urdu and English. This is one of the best recipes by chef Abida Baloch at Masala TV show Dawat. Check out the other best recipes of chefs Abida Baloch.
Top relevant recipes of Lasagna Rollups Recipe in Urdu