Matar Pulao Recipe | Dawat | Abida Baloch | Desi Food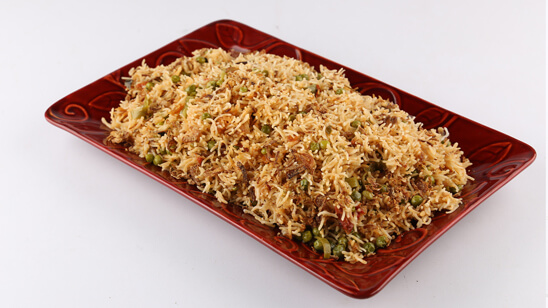 Jul 04, 2022 at 01:41 AM (GMT -04:00)

Check out the Matar Pulao Recipe in Urdu. Learn how to make best Matar Pulao Recipe , cooking at its finest by chef Abida Baloch at Masala TV show Dawat. Check all the Pakistan Cooking recipes in Urdu of Masala TV. Also Check Matar Pulao Recipe , ingredients and complete Method.
Matar Pulao Recipe is a classic that everyone must learn to ace! Pair it with some Shami Kabab and Raita; you'll enjoy every bit of it!
Watch this Masala TV video to learn how to make Matar Pulao ,Gajar Ka Halwa and Adrak Ki Chai Recipes. This show of Dawat with Chef Abida Baloch aired on 4 December 2020 .
Ingredients:
Basmati rice 2 cups
Clarified butter 1/2 cup
Cumin seeds 1 tsp
Bay leaf 1
Star anise 1
Black Cardamoms 2
Green cardamoms 2
Cloves 2
Cinnamon Stick 1 inch
Salt to taste
Onions (fried) 2
Green peas 2 cups
Ginger garlic paste 1tbsp
Tomatoes 3
Green chilies 7-8
Curry leaves few
Method:
Heat a pressure cooker with ghee on medium flame, to this add the whole spices ,Once these spices begin to sizzle, add the curry leaves, onions, salt, green chilies, peas, ginger garlic and tomatoes and cook until tomatoes become mashy and ghee separated. Add rice and 2 ½ cup water. Cook for about 10 minutes and turn the flame low for another 10 minutes, then give the Matar pulao a stir and fluff up the rice. Transfer the Matar Pulao to a serving bowl and garnish with fried onion
Ingredients:
carrots (grated) 1 kg
Clarified butter 1/4 cup
Sugar 1/2 cup
Cardamom powder 1 tsp
Milk 2 cups
Whole dried milk 1 cup
Nuts as required
Method:
In a pot, add carrots and heat up on high flame for 2-3 minutes.
Add milk and bring the whole mixture to a boil then mix it. Uncovered, grated carrots will cook in the milk and the milk starts to reduce and evaporate. Now cook on high flame and keep on stirring in between. When all milk evaporates, add sugar and give it a good mix. Keep stirring and continue to cook on a high flame. Add ghee and mix well until water completely disappeared. Towards the end, add cardamom powder and dry fruits/nuts ,khoya and give it a good mix. Gajar halwa is ready.
Ingredients:
Fresh ginger (sliced) 1-inch chunk
Cinnamon stick 1
Fresh lemon (round) few thin
Sugar to taste
Water 4 cups
Method:
Combine all ingredients (except lemon) and water in a saucepan over high heat. simmer for up to 15 minutes. Remove the pot from the heat. Carefully pour the mixture through a mesh sieve into a heat-safe liquid measuring cup, or directly into a mug. Serve with a lemon round. Serve hot.

Matar Pulao Recipe in Urdu and English
At Masala TV you can check complete Matar Pulao Recipe in Urdu and English. This is one of the best recipes by chef Abida Baloch at Masala TV show Dawat. Check out the other best recipes of chefs Abida Baloch.
Top relevant recipes of Matar Pulao Recipe in Urdu