Moong Daal Pakora Recipe | Masala Mornings | Shireen Anwar | Desi Food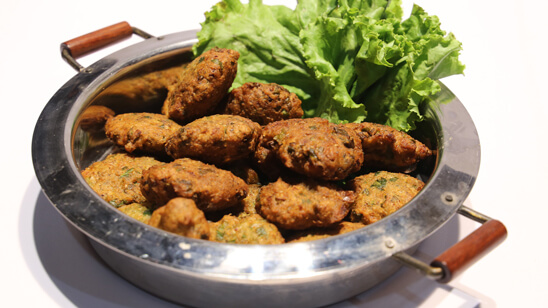 Aug 12, 2022 at 07:58 PM (GMT -04:00)

Check out the Moong Daal Pakora Recipe in Urdu. Learn how to make best Moong Daal Pakora Recipe , cooking at its finest by chef Shireen Anwar at Masala TV show Masala Mornings. Check all the Pakistan Cooking recipes in Urdu of Masala TV. Also Check Moong Daal Pakora Recipe , ingredients and complete Method.
Moong Daal Pakora is just what you are looking for during this season to enjoy it fully!
Watch this Masala TV video to Learn how to make Moong Daal Pakora , Kaali masoor ki daal aur zeera walay chawal and Soya chanay ki daal Recipes. This show of Masala Mornings with Chef Shireen Anwar aired on 8 September 2020.
Ingredients:
Split green gram (Green moong soaked) 1 cup
Salt 1 tsp
Black pepper ½ tsp
Crushed red pepper 1 tsp
Coriander leaves chopped ½ cup
Chili powder ½ tsp
Chat masala 1 tsp
Crushed coriander 1 tbsp
Crushed cumin 1 tsp
Green onions chopped 1 cup
Regular onion chopped ½ cup
Corn flour 1 tbsp
Gram flour 3 tbsp
Baking soda ¼ tsp
Asotida pinch
Method:
Soak 1 cup of green moong daal for 4 hours and remove all excess water, grind to a rough paste, mix in salt, ½ tsp black pepper, lots of chopped coriander, 1 tsp red chili powder, 1 tsp chat masala, pinch of heing, 2 tbsp kuta hua dhania, ½ tsp zeera powder, 1 small chopped onion, 1 tbsp corn flour, 3 tbsp chanaa ata and a pinch of bakind soda, mix well and deep fry pakodas till golden and crisp, serve with chatni.
Ingredients:
Split red lentil Masoor lentil soaked ½ kg
Ginger garlic 2 tsp
Salt 1 ½ tsp
Chili powder 2 tsp
Coriander powder 2 tsp
Turmeric ½ tsp
Tamarind pulp 2 tbsp
Allspice 1 tsp
Mint leaves chopped ½ bunch
Green chilies 4
Ingredients for baghar:
Clarified butter ½ cup
Garlic crushed 2 tbsp
Cumin seeds 1 tsp
Red chilies 10
Ingredients for zeera rice:
Rice 250 gm
Oil ¼ cup
Cumin seeds 1 tsp
Salt 1 tsp
Brown onion 2 tbsp
Method for daal:
Boil water, add soaked daal with all the seasonings cooked till tender, add tamarind pulp, allspice, remove from fire, add chopped green chilies and podina. Lastly give baghaar, serve with zeerawalay rice.
Method for rice:
Heat oil, add cumin, brown onion soaked rice with salt and water, cover and cooked till done.
Ingredients:
Gram lentil (chana daal) 250 gm
Salt 1 tsp
Chili powder 1 ½ tsp
Turmeric powder 1 tsp
Soya 1 bunch chopped
Onion 1 sliced
Oil as required
Potato as required
Method:
Boil gram lentil with salt, chili powder and turmeric, when gram lentil half done, add potato cubes, cover and cook till potatoes tender, add soya, cook for 10 mins. Lastly heat oil half cup, fry onion light golden, and add to the daal, mix serve with parathas.

Moong Daal Pakora Recipe in Urdu and English
At Masala TV you can check complete Moong Daal Pakora Recipe in Urdu and English. This is one of the best recipes by chef Shireen Anwar at Masala TV show Masala Mornings. Check out the other best recipes of chefs Shireen Anwar.
Top relevant recipes of Moong Daal Pakora Recipe in Urdu