Thai Red Curry Recipe | Dawat | Abida Baloch | Thai Food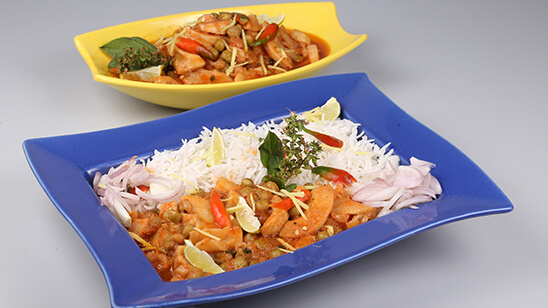 Jun 10, 2023 at 04:29 AM (GMT -04:00)

Check out the Thai Red Curry Recipe in Urdu. Learn how to make best Thai Red Curry Recipe , cooking at its finest by chef Abida Baloch at Masala TV show Dawat. Check all the Pakistan Cooking recipes in Urdu of Masala TV. Also Check Thai Red Curry Recipe , ingredients and complete Method.
Thai Red Curry recipe is perfect for when you make Chinese cuisine! Give this recipe a try and let us know.
Watch this Masala TV video to learn how to make Thai Red Curry And Spinach Mushroom Pasta Recipes. This show of Dawat with Chef Abida Baloch aired on 10 June 2021.
Ingredients:
Oil 1/2 cup
Ginger & garlic paste 1 tbsp
Red curry paste 5-6 tbsp
Coconut milk 1 cup
Brown sugar 1 tsp
Basil or coriander 1/2 cup
Red chili, sliced 3
Ginger as required
Boiled rice to serve
Mix vegetables 2 cups
Method:
Heat oil in a pan over a medium heat and fry ginger garlic paste for 2 mins. Add red curry paste, stir until oil to rise to the surface. Then pour in coconut milk. Add vegetables until cooked through. Add brown sugar, bring to the boil, take off the heat and add basil. Spoon the curry into bowls and top with 1 red chili, ginger and a few extra basil leaves. Serve with rice.
Ingredients:
Olive oil 1/2 cup
Onion sliced 1
Garlic ginger minced 1tsp
Red chili 1tsp
Ground fenugreek 1 tsp
Turmeric 1/2 tsp
Mustard seeds 1 tsp
Chopped tomatoes 4
Coconut milk 1 cup
Chickpeas 1 can
Mushrooms 1 can
Spinach leaves 2 cups
Salt to taste
Crushed black pepper 1/4 tsp
Coriander leaves as required
Lime wedges to serve
Method:
Heat the oil in a pan. Add the onion and cook until soft and golden.
Add the garlic, ginger and cook for 2 minutes. Add a splash of water. Now add the mushrooms stir until the mushrooms are covered in the spices. Season with the salt and pepper add tomatoes then add the chickpeas, now add coconut milk and coriander leaves stir and leave to simmer for 5 minutes. Then add the coconut milk, stir add spinach then serve hot.

Thai Red Curry Recipe in Urdu and English
At Masala TV you can check complete Thai Red Curry Recipe in Urdu and English. This is one of the best recipes by chef Abida Baloch at Masala TV show Dawat. Check out the other best recipes of chefs Abida Baloch.
Top relevant recipes of Thai Red Curry Recipe in Urdu