White Chicken Chili Recipe | Dawat | Abida Baloch | Chinese Food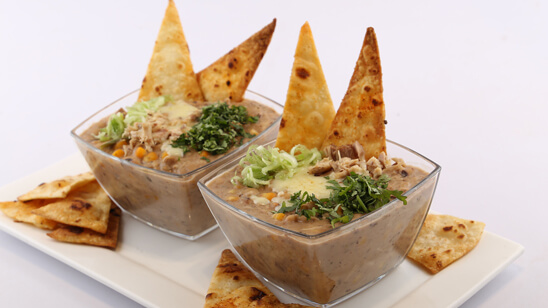 Apr 20, 2021 at 11:59 PM (GMT -04:00)

Check out the White Chicken Chili Recipe in Urdu. Learn how to make best White Chicken Chili Recipe , cooking at its finest by chef Abida Baloch at Masala TV show Dawat. Check all the Pakistan Cooking recipes in Urdu of Masala TV. Also Check White Chicken Chili Recipe , ingredients and complete Method.
Are you wondering what to make for dinner tonight? This White Chicken Chili is the perfect recipe for you then. It tastes incredible so give it a try today!
Watch this Masala TV video to learn how to make White Chicken Chili and Sweet Potato Casserole Recipes. This show of Dawat with Chef Abida Baloch aired on 30 November 2020 .
Ingredients:
Oil 1 tbsp
Onion (chopped) ½ cup
Garlic (finely minced) 2 cloves
Chicken stock 2 1/2 cups
Green chilies 2-3
Cumin seeds 1 tsp
Dried rosemary 1/2 teaspoon
Paprika 1 tsp
Oregano 1 tsp
Lemon juice 1
Salt and black pepper to taste
White beans 11/2 cup
Sour cream 1/2 cup
Corn 1 cup
Chicken (cooked and shredded) 2 cups
For The Topping:
Green coriander as required
Tortilla chips as required
Shredded cheese as required
Green onion s as required
Method:
In the food processor add 1/2 cup of the beans with a splash of stock from the soup. Puree until smooth. Heat oil in a large pot over medium-high heat. Add onion and sauté until softened. Add garlic and cook for 30 seconds. Add green chilies, cumin seeds, paprika, oregano, lime juice and season with salt and pepper to taste. Add stock pureed beans, whole beans and corn to the soup pot. Bring the mixture to a simmer and cook, uncovered, for 15 to 30 minutes. Remove from heat and stir in sour cream and cooked chicken. Serve garnished with green coriander, shredded cheese, green onions and tortilla chips.
Ingredients For Sweet Potato:
Sweet potato (cooked) 1/2 kg
Salt to taste
Butter 2 tbsp
Milk 1/2 cup
Egg 1
Green onion (chopped) 2 tbsp
Garlic (minced) 2 cloves
Black pepper to taste
For The Topping:
Bread crumbs 1 cup
Salt to taste
Black pepper to taste
Oil 1 tbsp
Cheese 1 cup
Green onion (sliced) for garnish
Method:
Preheat the oven to 375˚F (190˚C).
Transfer the sweet potatoes to a large bowl. Add the butter, spring onion, garlic, pepper, salt, milk, and eggs. Mix until the potatoes are mashed and everything is well incorporated and put all this into baking dish. In another small bowl, combine bread crumbs, cheese, salt, pepper, and stir to combine.
Bake the sweet potato casserole for 20-25 minutes, or until golden brown.
Remove the casserole from the oven and sprinkle green onions. Serve hot.

White Chicken Chili Recipe in Urdu and English
At Masala TV you can check complete White Chicken Chili Recipe in Urdu and English. This is one of the best recipes by chef Abida Baloch at Masala TV show Dawat. Check out the other best recipes of chefs Abida Baloch.
Top relevant recipes of White Chicken Chili Recipe in Urdu