Kashmiri Chai Recipe | Food Diaries | Zarnak Sidhwa | Tea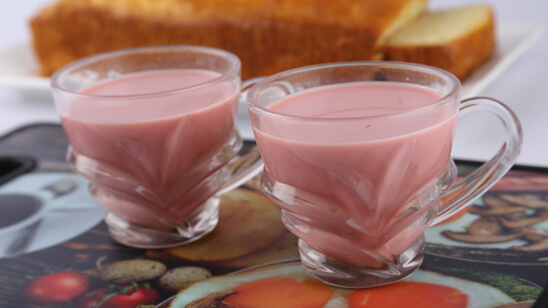 Sep 24, 2023 at 12:05 PM (GMT -04:00)

Check out the Kashmiri Chai Recipe in Urdu. Learn how to make best Kashmiri Chai Recipe , cooking at its finest by chef Zarnak Sidhwa at Masala TV show Food Diaries. Check all the Pakistan Cooking recipes in Urdu of Masala TV. Also Check Kashmiri Chai Recipe , ingredients and complete Method.
Kashmiri Chai is a winter favorite that you must have too. The dry fruits in it makes it taste even more delightful.
Watch this Masala TV video to learn how to make Kashmiri Chai and Fish Biryani Recipes. This show of Food Diaries with Chef Zarnak Sidhwa aired on 12 January 2020.
Ingredients:
Water 2 cup
Green tea leaves 2 tsp
Bicarbonate Of Soda 2 pinch
Milk 1 cup
Sugar 4 tsp
Cardamom powder 1 pinch
Grinded almond as required
Salt 1 pinch
Cloves 2
Nutmeg mace powder 1 pinch
Cold water 1-1/2 cup
Method:
In a pot add 2 cup of water .then add 2 tsp green tea leaves and cook around 10 minutes .now for color pink add one pinch bicarbonate of soda or red food color and cook for 3 to 4 minutes .when its color change then stove off .after this add slowly slowly 1-1/2 cup of cold water and beat it. When change the color khewa then add milk, sugar, cardamom, grinded almond, salt, 2 cloves and 1 pinch nutmeg mace add and leave on dum .finely pour on cup and serve .
Ingredients:
For rice:
Basmati rice 2 cups
Bay leaves 2
Cumin or Caraway seeds 1 tsp
Cloves 6
Green cardamoms 4
Cinnamon sticks 2 pieces
Salt as required
Other ingredients:
Green chilies (chopped) 2
Coriander leaves (chopped) 1 cup
Mint leaves (chopped) 1/2 cup
Saffron a pinch
Orange food color as required
Warm milk 1/4 cup
Juice of lemon 1
Screw pine 1 tsp
Biryani essence 1 tsp
Clarified butter 1/3 cup
Fried onions 3/4 cup
All spice powder 1 tsp
Salt 1 tsp
Ingredients for Marinade :
Boneless fish ½ kg
Biryani masala 2 tbsp
Yogurt 4 tbsp
Turmeric powder 1/2 tsp
Oil 3 tbsp
Grind to a paste:
Garlic 6 cloves
Ginger 1 tbsp
Green chilies 4
coriander leaves handful
Method:
Marinate fish with salt, biryani masala, turmeric powder and the ground spice paste. Refrigerate and marinate for four hours or more.
For the rice, boil water, add the spices, earlier soaked rice with enough salt and cook until half done. Drain out the water.
Just before layering, mix in the yogurt and oil with the marinated fish.
In a deep, wide heavy-bottomed pan, layer the fish. Top with chopped green chillies, mint, 1/2 cup coriander leaves and 1/4 cup fried onions.
Spread all the rice over the raw fish. Sprinkle remaining 1/2 cup fried onions and remaining1/2 cup coriander leaves. Pour the saffron milk over the rice along with lemon juice, kewra essence, all spice powder and ghee. Cover pan, seal with aluminum foil or dough. Cook on medium heat for 5 minutes and then on very low heat (dum) for 15 minutes. Shut off flame after the indicated time and let it rest for another 10 to 15 minutes. Lift the lid, gently stir rice to mix with the fish. Serve warm with raita .

Kashmiri Chai Recipe in Urdu and English
At Masala TV you can check complete Kashmiri Chai Recipe in Urdu and English. This is one of the best recipes by chef Zarnak Sidhwa at Masala TV show Food Diaries. Check out the other best recipes of chefs Zarnak Sidhwa.
Top relevant recipes of Kashmiri Chai Recipe in Urdu