Kashmiri Yakhni Pulao Recipe | Masala Mornings | Shireen Anwer | 26 Oct 2022 | Masala Tv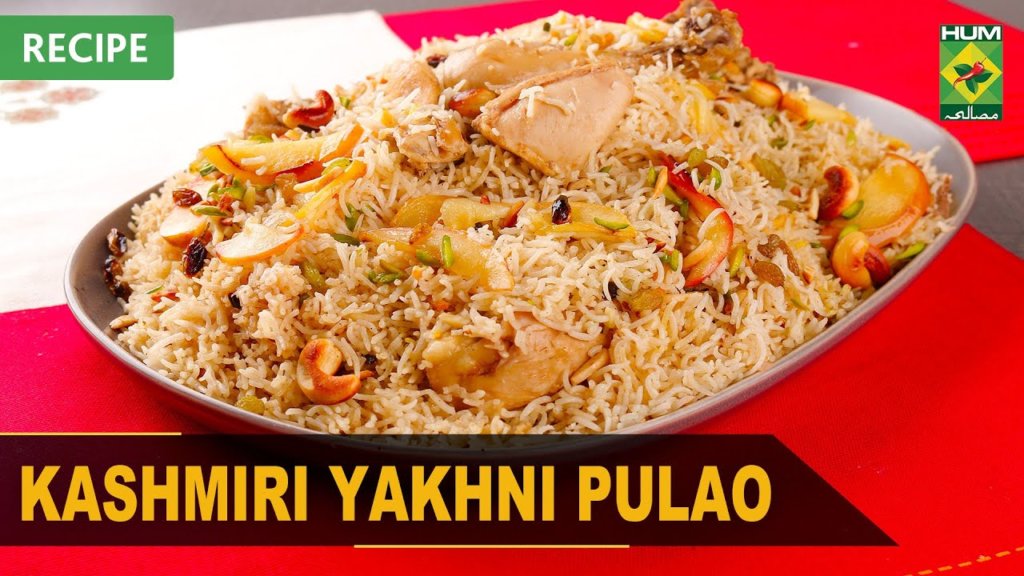 May 31, 2023 at 12:00 AM (GMT -04:00)

Check out the Kashmiri Yakhni Pulao Recipe in Urdu. Learn how to make best Kashmiri Yakhni Pulao Recipe , cooking at its finest by chef Shireen Anwar at Masala TV show Masala Mornings. Check all the Pakistan Cooking recipes in Urdu of Masala TV. Also Check Kashmiri Yakhni Pulao Recipe , ingredients and complete Method.
Subscribe To Masala TV Recipes YouTube Channel! Masala Tv
The show features the renowned Chef Shireen Anwar who cooks audience-centric South Asian and Continental cuisines for her audience. The chef makes sure to interact with her audience by taking in live-calls during her show and answering queries related to cooking which are often asked by house-wives.
Kashmiri Yakhni Pulao Recipe will help you achieve the perfect combination of flavours. Try out this Amazing recipe!
#KashmiriYakhniPulao #NauratanKheer #masalatv #foodie #food #masalamornings
Watch this Masala TV video to learn how to make Kashmiri Yakhni Pulao And Nauratan Kheer Recipe.
This show of Masala Mornings with Chef Shireen Anwer aired on 26 Oct 2022.
If you enjoy cooking Pakistani food and are looking for recipes, videos of LIVE shows, totkas, and other food stories in both Urdu and English, subscribe to this YouTube channel @ https://bit.ly/3ac5djo or go to our website: https://www.masala.tv/
Ingredients
Milk 1 kg
Rice ½ cup soaked for 4 hours and crushed
Dry dates 3 soaked remove seeds and sliced
Whole dried milk ½ cup
Sugar 1 cup
Almonds and pistachio ¼ cup
Finely chopped coconut 1 tbsp
Powder milk 8 tbsp
Raisins 2 tbsp
Melon seeds 1 tbsp
Cardamom powder 1 tsp
Saffron ½ tsp
Screw pine water 1 tsp
METHOD
Boil milk, add crushed rice, cook till boiling and rice tender, add sugar with powdered milk, khoya, beat well with a whisk, add 1 tsp cardamom powder, saffron ½ tsp, kewra 1 tsp, remove, add in the kheer half quantity of dry fruit, leave half quanitity for topping, remove in a platter, serve garnished with remaining dry fruit, serve cold.
Ingredients
Chicken 1 kg 12 pcs
Water 3 cups
Salt 1 tsp
Ingredients for Spice Bag
Fennel seeds 1 tbsp heaped
Coriander seeds 1 tbsp heaped
Onion 1 large cut into 4 pcs
Garlic 8 cloves
Ginger 2-inch piece
Other Ingredients
Almonds blanched and fried 2 tbsp
Cashew nuts whole 12 fried
Raisins 2 tbsp fried
Rice 750 gm soaked
Chicken stock 1 kg
Salt 1 tbsp
Apple 1 cut in cubes
Allspice 1 tsp heaped
Clarified butter ½ cup
Oil ½ cup
Whole spices 1 tbsp
METHOD FOR SPICE BAG
Put all together in muslin cloth and form into a spice bag and add in the pan with salt, water and chicken, and boil.
METHOD
Boil chicken with 3 cups water, salt and the spice bag. In another pan, heat ½ cup ghee and ½ cup oil, add in boiled chicken with whole spices, stock and soaked rice, mix, add allspice powder, cook for 5 mins on full flame, then lower flame, cook till water dries, Lastly add apples, fried nuts, raisins, leave it on dum.

Kashmiri Yakhni Pulao Recipe in Urdu and English
At Masala TV you can check complete Kashmiri Yakhni Pulao Recipe in Urdu and English. This is one of the best recipes by chef Shireen Anwar at Masala TV show Masala Mornings. Check out the other best recipes of chefs Shireen Anwar.
Top relevant recipes of Kashmiri Yakhni Pulao Recipe in Urdu