Kashmiri Chai Recipe | Dawat | Abida Baloch | Tea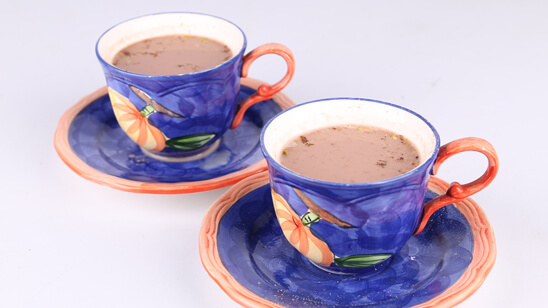 Dec 09, 2023 at 12:53 PM (GMT -05:00)

Check out the Kashmiri Chai Recipe in Urdu. Learn how to make best Kashmiri Chai Recipe , cooking at its finest by chef Abida Baloch at Masala TV show Dawat. Check all the Pakistan Cooking recipes in Urdu of Masala TV. Also Check Kashmiri Chai Recipe , ingredients and complete Method.
Kashmiri Chai is a winter favorite we can't resist. The aroma of this one makes it even more irresistible so have this one today!
Watch this Masala TV video to learn how to make Kashmiri Chai , Dahi Ka Halwa and Dahi Wali Arvi Recipes. This show of Dawat with Chef Abida Baloch aired on 18 December 2020 .
Ingredients:
Water 2 cups
Kashmiri tea leaves 2 tsp
Star anise 1/2
Cloves 2
Green cardamoms 2
Baking soda ¼ tsp
Chilled water 1 cup
Milk 1 cup
Almond, pistachios (crushed) 1 tbs
Sugar to taste
Screw pine water few drops
Method:
In kettle, add water, Kashmiri tea leaves, star anise, cloves, cardamom seeds and baking soda. Bring it to boil. Let it simmer for 20-10 minutes until it reduces to half. Add chilled water and mix well for 8 to 10 minutes and cook for 5 minutes. Strain and set aside. In kettle, add milk, sugar, nuts and give it a good mix. Add screw pine water and cook for few minutes. Finally pour the tea in cups and serve.
Ingredients:
Semolina 1/2 cup
Clarified butter 1/4 cup
Sugar 1/2 cup
Yogurt 500 gm
Mace powder 1 tsp
Green cardamom 2-3
Chop nuts for garnish
Method:
Take muslin cloth (malmal ka kapra). Spread in a bowl. Pour yogurt on it. Roll the muslin cloth and tie a knot. Hang somewhere and leave for 4-5 hour. The yogurt will release it's water set aside. Melt clarified butter in a pan. Add green cardamom and splitter. Add semolina in clarified butter. Over medium heat fry semolina with continue stirring to golden brown. Don't burn the semolina. When semolina turns golden brown, remove pan from heat and add this hang curd to pan which is removed from heat. Mix well to avoid lumps. Keep the pan on medium heat. Stir to get a blended mixture. When yogurt is blended in semolina add sugar in pan and mix well. Let all things incorporate together. fry 6-8 min till clarified butter starts coming on top & halwa leaves sides. Add cardamom & mace powder, cook for 5 min to mix Garnish with chopped nuts.
Ingredients:
Taro root (boiled) 500 gm
Yogurt 1 cup
Carom seeds 1/2 tsp
Cumin 1/2 tsp
Red chili powder 1 tsp
Turmeric powder 1/4 tsp
Coriander powder 1 tsp
All spice powder 1 tsp
Fresh coriander (chopped) 2 tbsp
Salt to taste
Oil 1/4 cup
Method:
Whisk yogurt well, keep aside. Heat oil in a pan add carom seeds, cumin and sauté for 10 seconds. Add red chili powder, turmeric powder, coriander powder along with some water and give it a mix. Add taro root and cook in oil and spices for about 10 to 12 minutes on medium flame with constant stirring. Add the whisked curd and with constant stirring, until oil comes on top. Add all spice powder, chopped coriander leaves, stir well and turn off flame.

Kashmiri Chai Recipe in Urdu and English
At Masala TV you can check complete Kashmiri Chai Recipe in Urdu and English. This is one of the best recipes by chef Abida Baloch at Masala TV show Dawat. Check out the other best recipes of chefs Abida Baloch.
Top relevant recipes of Kashmiri Chai Recipe in Urdu