Kashmiri Chicken Handi Recipe | Lazzat | Samina Jalil | Dei Food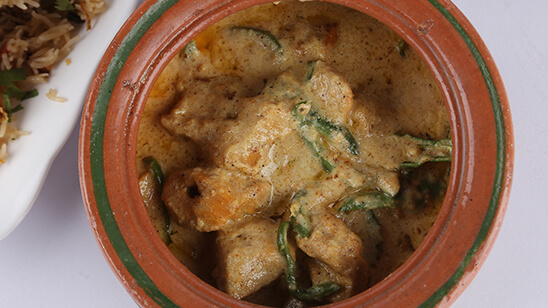 Nov 28, 2023 at 09:36 AM (GMT -05:00)

Check out the Kashmiri Chicken Handi Recipe in Urdu. Learn how to make best Kashmiri Chicken Handi Recipe , cooking at its finest by chef Samina Jalil at Masala TV show Lazzat. Check all the Pakistan Cooking recipes in Urdu of Masala TV. Also Check Kashmiri Chicken Handi Recipe , ingredients and complete Method.
Kashmiri Chicken Handi brings out the true essence of Kashmiri food. Give this superb recipe a try for dinner time and enjoy kashmiri goodness of food that you'll never forget!
Watch this Masala TV video to learn how to make Kashmiri Chicken Handi and Mutton Kishmish Pulao Recipes. This show of Lazzat with Samina Jalil aired on 25 January 2021.
Ingredients:
Boneless chicken 500grams
Ginger Garlic paste 1-1/2 tbsp
Yogurt ¾ cup
White pepper 1tsp
Salt 1tsp
Cream ½ cup
Cashew nut paste 2tbsp
Capsicum (cut length wise) 2
Nutmeg, mace powder 1/2tsp
Cream cheese 2tsp
Oil 4tbsp
Green chili (cut length wise) 2
Butter as required
Method:
Cut the chicken into cubes and add 2tbsp yogurt and marinate it for 15 to 20 mins. In a handi heat oil and butter and add ginger garlic paste with salt and white pepper and fry. Add the marinated chicken to fry in the handi with the rest of the yogurt. Then add half cup of water and set the flame on medium till the chicken tenders. Then add cashew nut's paste, nutmeg and mace with cream and cream cheese and mix them thoroughly and simmer it for 5-6mins. In the end add vertically cut green chili and capsicum and serve.
Ingredients:
Chicken 750grams
Basmati rice 750grams
Onion 3
Whole garlic 1
Bay leaves 2
Salt 1tbsp
Yogurt 250grams
Tomato 2
Green chili 6-7
Whole coriander 1-1/2tbsp
Small cardamom 10-15
White cumin 1tbsp
Ginger (for stock) 1 piece
Small black raisins 1-1/2 cup
Fried onion 2tbsp
Coriander ½ bunch
Ginger garlic paste 2tbsp
Clarified butter ¾ cup
Ginger(Finely cut) 4tbsp
Ground Nutmeg,Mace 3/4tsp
Method:
In a pan add mutton, onion, whole garlic,salt,8 small cardamom,1 bay leaf, whole coriander, whole cumin, a piece of ginger and 10cups of water for stock and cook it till the meat tenders and 6cups of stock are left in the pan. Then (sieve) the meat from stock. Now heat ghee in a pan and fry 2 onions. Then add 1bay leaf, small cardamom, ginger garlic paste, tomato, yogurt and salt and roast it. When the spices are roasted now add the meat and roast it again. Then add Mashed nutmeg and mace and 3-4 green chili with stock. Then add soaked rice and when it boils set the flame on high for 6 to 7 mins. Then for simmering set the stove on medium flame when its done mix it with black raisins. Serve it on a platter and garnish it with fried onions and coriander.

Kashmiri Chicken Handi Recipe in Urdu and English
At Masala TV you can check complete Kashmiri Chicken Handi Recipe in Urdu and English. This is one of the best recipes by chef Samina Jalil at Masala TV show Lazzat. Check out the other best recipes of chefs Samina Jalil.
Top relevant recipes of Kashmiri Chicken Handi Recipe in Urdu