Thai Prawn Soup Recipe | Food Diaries | Chef Zarnak Sidhwa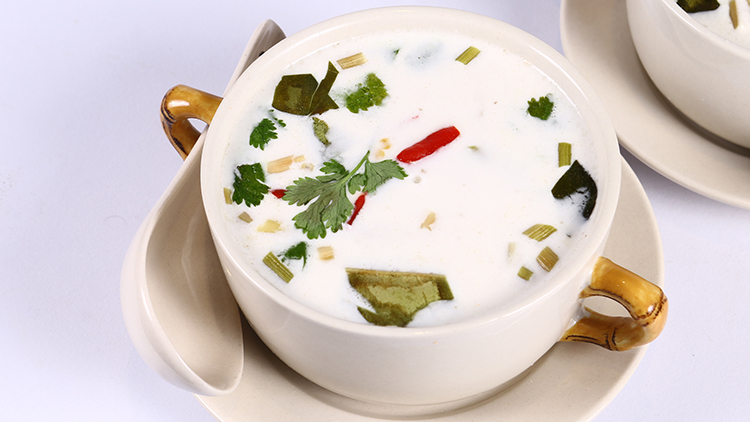 Nov 29, 2020 at 09:10 AM (GMT -05:00)

Check out the Thai Prawn Soup Recipe in Urdu. Learn how to make best Thai Prawn Soup Recipe, cooking at its finest by chef Zarnak Sidhwa at Masala TV show Food Diaries. Check all the Pakistan Cooking recipes in Urdu of Masala TV. Also Check Thai Prawn Soup Recipe, ingredients and complete Method.
You must have tried all amazing soups that Zarnak taught you this week, so here is another one of her most demanded soups. Try it at home and share your reviews.
Watch this Masala TV video to learn how to make Thai Prawn Soup ,Hot and Sour Soup and Bread sticks Recipes. This show of Food Diaries with Chef Zarnak Sidhwa aired on 7 December 2019.
Ingredients:
Prawns ½ kg
Coconut cream 1 can
Chicken stock 1 liter
Lemongrass 2 stems
Ginger (cut in length) 2 pieces
Red chilies 2
Coriander 1 bunch
Kaffir lime leaves 5
Mushrooms 100gm
Fish sauce 2 tbsp
Lemon juice 1 tbsp
Sugar a pinch
Salt a pinch
Sliced red chili to serve
Method:
Bring the coconut cream and stock to a boil in a large saucepan. Add lemongrass, ginger, red chili and coriander roots. Tear 4 lime leaves and add to the pan. Reduce heat to low and simmer gently for 10 minutes. Add prawns and mushroom to the pan. Simmer for 2-3 minutes or until prawns change color. Remove from heat. Stir in the fish sauce, lemon juice, sugar and salt. Taste and add more fish sauce, lemon juice, sugar and salt if needed. Finely shred remaining kaffir lime leaf. Remove lemongrass from soup and discard. Divide soup among serving bowls. Sprinkle with shredded lime leaf, coriander leaves and chili.
Ingredients:
Green beans ½ cup
Carrot 1
Button mushrooms 2-4
Onion 1
Ginger 1 tbsp
Garlic 2 cloves
Vegetable stock 2 cups
Soy sauce 1 tbsp
Sugar 1/4 tsp
White pepper powder as required
Spring onions (chopped) 2 tbsp
Shredded cabbage 4 tbsp
Bean sprouts 2 tbsp
Capsicum 1
Oil 1 tbsp
Stalk celery 1
Green chili sauce 1 tbsp
Corn flour 2 teaspoon
Salt to taste
Vinegar 1 tbsp
Method:
Heat oil and add in the chopped onions, chopped celery, sliced mushrooms, chopped ginger and garlic. Add finely chopped capsicum, carrot, French beans, bean sprouts, spring onions and shredded cabbage. Saute, add the vegetable stock to the pan along with sugar, green chili sauce, vinegar and soy sauce. Mix 4 tbsp water with corn flour and add. Keep stirring until the soup becomes thick. Add salt and white pepper powder. Once the soup achieves the desired consistency, pour it in small bowls and serve it hot with a garnish of spring onions.
Ingredients:
Flour 250 gm
Yeast 10 gm
Salt 5 gm
Carom seeds 10 gm
Oil 1 tbsp + for greasing
Method:
Mix all ingredients and let rise for an hour. Shape into thin breadsticks and bake at 180 degrees C for 10-15 minutes or until golden, crispy and done.

Thai Prawn Soup Recipe in Urdu and English
At Masala TV you can check complete Thai Prawn Soup Recipe in Urdu and English. This is one of the best recipes by chef Zarnak Sidhwa at Masala TV show Food Diaries. Check out the other best recipes of chefs Zarnak Sidhwa.
Top relevant recipes of Thai Prawn Soup Recipe in Urdu