Achari lauki Recipe | Mehboob's Kitchen | Masala TV | Mehboob Khan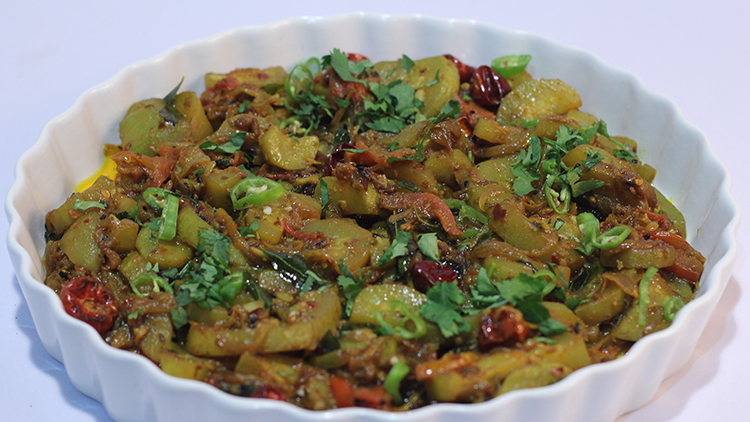 Jun 10, 2023 at 03:04 AM (GMT -04:00)

Check out the Achari lauki Recipe in Urdu. Learn how to make best Achari lauki Recipe, cooking at its finest by chef Mehboob Khan at Masala TV show Mehboob's Kitchen. Check all the Pakistan Cooking recipes in Urdu of Masala TV. Also Check Achari lauki Recipe, ingredients and complete Method.
Chef Mehboob khan brings you an easy way to prepare Achari Lauki recipe. It has a taste of infamous achaar and is perfect for vegetable lovers. Try it out and let us know what you think.
Watch this Masala TV video to learn how to make Achari lauki , Khara Masala Gosht and Stuffed Peppers Recipes. This show of Mehboob's Kitchen with Chef Mehboob Khan aired on 15 November 2019.
Ingredients:
Bottle gourd ½ kg
Onions (medium) 2
Nigella seeds ½ tsp
Fennel seeds ½ tsp
Fenugreek seeds ¼ tsp
Cumin roasted and crushed 1 tsp
Bay leaves 10
Whole red chili 6
Salt to taste
Red chili crushed 1 tsp
Turmeric ½ tsp
Green coriander 2 tbsp
Oil ¼ cup
Method:
Heat oil in a pan and fry onion. Now add red chili whole, bay leaf, fenugreeks seeds, aniseed, fennel seeds, cumin roasted, salt, turmeric, chopped red chili and tomatoes to mix and fry. Now add bottle gourd slices and half cup of water and cook while covered. Garnish it with green coriander and serve.
Ingredients:
Mutton 500 grams
Bay leaf 1
Black pepper ½ tsp
Coriander powder 1 tsp
Green coriander 4 tbsp
Green chili fine cut 2
Tomato 2
Lemon juice 1 lemon
Onion 3
Ginger, garlic paste 2 tbsp
Cardamoms 2
Cinnamon stick 1 inch
Cloves 2
All hot spices ½ tsp
Salt to taste
Oil 4 tbsp
Cumin seeds ½ tsp
Yogurt 3 tbsp
Black cumin ½ tsp
Method:
In mutton meat add onion, ginger ,ginger garlic paste ,tomato, yogurt and all seasoning ,oil ,green chili chopped and green coriander cook for 30 minutes .now add half cup of water and cook meat till than meat tender .when oil come on top then remove and serve .
Ingredients:
Ground beef 250 grams
Water ½ cup
Green bell peppers 6
Tomato sauce 1 cup
Worcestershire sauce 1 tbsp
Garlic powder ¼ tsp
Onion powder ¼ tsp
Salt and pepper to taste
Dried oregano. 1-1/2 tsp
Dried basil. ½ tsp
Methods:
Preheat oven to 175 degrees C
cook the beef and water in a saucepan, and bring to a boil. Reduce heat, cover, and cook 20 minutes. In a skillet over medium heat until evenly browned.
Remove and discard the tops, seeds,Arrange peppers in a baking dish with the hollowed sides facing upward
In a bowl, mix the browned beef, tomato sauce, Worcestershire sauce, garlic powder, onion powder, salt, and pepper. Spoon an equal amount of the mixture into each hollowed pepper.
Bake for 15 minutes and serve hot

Achari lauki Recipe in Urdu and English
At Masala TV you can check complete Achari lauki Recipe in Urdu and English. This is one of the best recipes by chef Mehboob Khan at Masala TV show Mehboob's Kitchen. Check out the other best recipes of chefs Mehboob Khan.
Top relevant recipes of Achari lauki Recipe in Urdu