Barbeque Karahi Recipe | Lively Weekends | Desi Food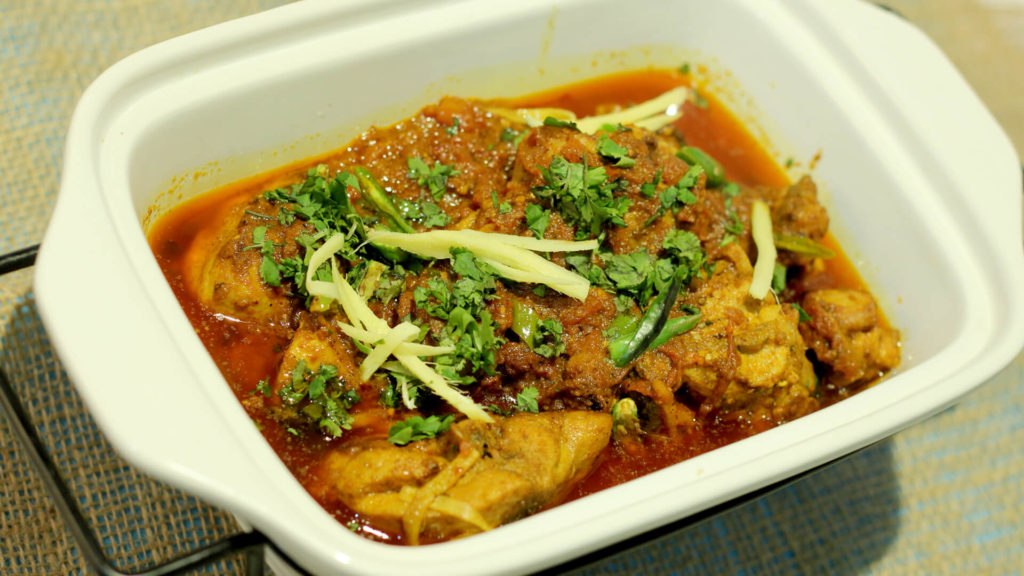 Nov 28, 2021 at 09:14 AM (GMT -05:00)

Check out the Barbeque Karahi Recipe in Urdu. Learn how to make best Barbeque Karahi Recipe, cooking at its finest by chef at Masala TV show Lively Weekends. Check all the Pakistan Cooking recipes in Urdu of Masala TV. Also Check Barbeque Karahi Recipe, ingredients and complete Method.
This Barbeque Karahi has the delicious seasoning of the finest spices that will make you lick your fingers. Try it and let us know how great it was!
Watch this Masala TV video to learn how to make Barbeque Karahi ,Jam Pudding Dough and Stuffed Pockets Recipes. This show of Lively Weekend with Host Kiran Khan aired on 19 January 2020.
Chicken Marination:
Chicken 1/2 kg
Yogurt 4 tbsp
Cream 3 tbsp
Lemon juice 2 tbsp
Ginger Garlic paste 2tsp
Turmeric powder ¼ tsp
Red chili powder 1 tsp
All spice powder ½ tsp
paprika powder 1/2 tsp
Salt 1 tsp
Oil 3-4 tbsp
Ginger julienne 1 tbsp
Green chilies sliced 1-2
Tomato sliced 300 grams
Green chili chopped as required
Coriander chopped as required
Ginger julienne as required
charcoal for smoke
Cumin ½ tbsp
Coriander ½ tbsp
Cloves 5-6
Star anise ½
Whole spices 4-5
METHOD:
In a grinder add cumin seeds, coriander seeds, cloves, star anise, whole red chilies and grind to make powder & set aside. Marinate chicken with all the ingredients for 15 minutes. Then in a wok, add oil and cook chicken for 12-15 minutes give charcoal smoke. Then in a wok add oil, ginger, green chilies and fry for 2 minutes. Now add ground spices and mix well. Then add tomatoes, cover and cook on low flame for 8-10 minutes then cook on high flame and mash tomatoes well and mix. Garnish with green chili, fresh coriander, ginger& serve.
INGREDIENTS:
Pudding mix:
Caster sugar 1/2 cup
Butter 1/2 cup
Eggs 2
Vanilla essence 1/2 tsp
Flour 1-1/2 cup
Jam 1/2 cup
Chocolate as required
METHOD:
Mix butter and sugar till it smooth. Then add one egg at a time and give it a good mix then add vanilla essence add flour and mix until it forms a creamy mixture. Take container and grease it with oil. Now pour jam and scoop pudding mixture. Bake at 180*c for 20 minutes. Then garnish with chocolate and serve.
IngredientsForDough:
Yeast 1 -1/2 tsp
Sugar 2 tsp
Warm water 1 cup
Flour 3 cups
Salt 2/3 tsp
Oil 2 tbsp
Water warm as required.
For Chicken and Cheese Filling:
Oil 2 tbsp
Onion 1 medium
Chicken boneless 1
Ginger garlic paste 1tsp
Cheddar cheese 1/2 cup
Mozzarella cheese 1/2 cup
Onion 1 small
Capsicum 1/2 cup
Tomato 1/4 cup
Black pepper 1/4 tsp
Red chilies 1/4 tsp
Salt 1/4 tsp
Dried oregano 1/4 tsp
METHOD:
All the dough ingredients mix and knead well then leave to 3 to 4 hours for rise and set aside. then in a pot, add oil and onion let it be golden and add cubes of chicken. Then add ginger garlic paste and all the veggies add the spices and give it a good mix. Then add chasse and mix well Set aside. In the center of the dough add filling press and seal add edges and make a ball. In a frying pan add oil and stuffed dough press down for making them flat and cook from both sides.

Barbeque Karahi Recipe in Urdu and English
At Masala TV you can check complete Barbeque Karahi Recipe in Urdu and English. This is one of the best recipes by chef at Masala TV show Lively Weekends. Check out the other best recipes of chefs .
Top relevant recipes of Barbeque Karahi Recipe in Urdu